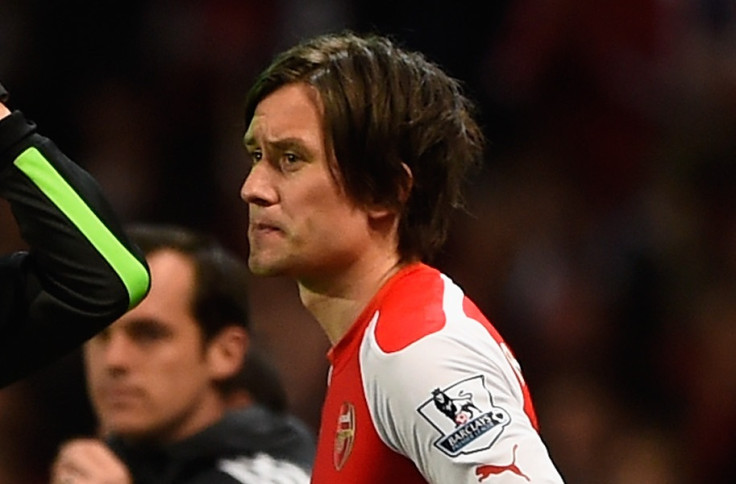 Arsenal midfielder Tomas Rosicky could be offered a route out of The Emirates Stadium this summer after former club Sparta Prague confirmed their interest in signing the 34-year-old.
The 34-year-old regularly expressed his frustration at playing a peripheral role last season, particularly after his contract was extended with the Gunners was extended into a 10th year.
Rosicky made just five Premier League starts last term and though his deal was extended he failed to feature in any of the club's last 10 matches of the year, including the FA Cup final win over Aston Villa.
The Czech Republic international began his professional career at his hometown club Sparta and the team are hopeful the player could yet return this summer.
Majority shareholder Daniel Křetínský told local media according to The Evening Standard: "I'd love him to come and for it to happen soon, but I don't want to put uncomfortable pressure on Tomas. It's up to him, I understand that leaving Arsenal isn't easy.
"I'm not sure Tomas would forgive himself if he went somewhere other than Sparta."
Though Rosicky earned a new deal at the end of the last campaign he has continually criticised Arsenal and manager Arsene Wenger for his lack of recent opportunities.
Speaking at the launch of Arsenal's new Puma kit, Rosicky said according to Sky Sports: "My focus is here. I have another year left on my contract. It was a difficult time for me. It is never easy when you are not playing at all and you end the season in the stands.
"Is there a frustration? Of course there is a frustration because I think I can still help the team to be better.
"On the other side I have been here nine years and I have always said I love the club. I don't think I have to prove to anyone how I feel about Arsenal and how loyal I am to this club.
"Of course it is not going well for me at the moment. It is disappointing, but I will not give up easy. I will fight."