With the likes of Spectre and The Hunger Games: Mockingjay Part 2 featuring on the silver screen over the next few weeks, two anti-piracy bodies are offering UK cinema staff £1,000 if they catch or prevent pirates from recording movies during film screenings.
The Film Distributors' Association (FDA) and the Federation Against Copyright Theft (FACT) have an existing rewards programme in place, which rewards cinema workers with cash payments of £500 each time they succeed in thwarting pirates – also known as "cammers" – but that figure has now been doubled.
The increased cash reward will be on offer from 23 October to 1 January 2016, which covers the Christmas movie season when some of the most anticipated new releases typically come out.
"The exceptional run of new releases is highly attractive both to mass-market cinemagoers and, regrettably, also to the networks of copyright pirates who persist in trying to rip off the creative industries and consumers," FDA CEO Mark Batey said at a ceremony at Universal Pictures on 21 October, according to TorrentFreak.
The ceremony was held to present cash prizes and certificates to 13 employees from UK cinemas who had helped to thwart illegal recordings of films such as Minions, Fast And Furious 7 and Pitch Perfect 2 when they were shown in cinemas earlier in 2015.
According to FACT, camming of movies remains the source of over 90% of all pirated films today. In 2015, there were 11 incidents reported by cinema staff, with 10 attended by the police. One incident led to two arrests, while formal cautions were given out at four incidents.
Hollywood wants to prevent Spectre from being leaked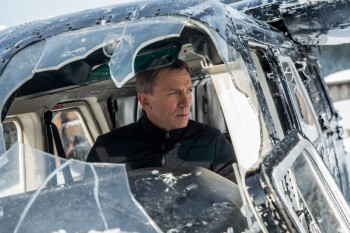 The UK will be the first country in the world to see the latest James Bond film Spectre when it debuts in cinemas on Monday 26 October, followed by six other European countries for the remainder of the month.
The film will be released in the US and many other countries from 5 November onwards, but there are concerns it will be leaked on to the internet before it is released to the rest of the world.
To that end, in September it was announced that UK cinema staff would be expected to wear military-grade night vision goggles during screenings of Spectre and Mockingjay Part 2 in order to detect camcorders and smartphones in the dark that might be hidden inside popcorn boxes or a sock with a hole in it.
"The bigger the film and the more anticipated it is, the higher risk it is. We have staff on extra alert for that. James Bond is a big risk and we will be working with cinema operators and the distributors making sure we will keep that as tight as possible. We really don't want to see that recorded," FACT director general Kieron Sharp said at the time.
"They [cinema staff] are on alert to really drill down on who is in the auditorium and who might possibly be recording. They still do the sweeps around the auditoriums with the night vision glasses regardless of the film. But sometimes extra security is put in place for things like Bond."