Spotify has announced a new Discover tab for its music streaming service, aimed at making it easier to find new tracks, and a Follow tab which adds a social networking element, with the ability to follow celebrities and artists.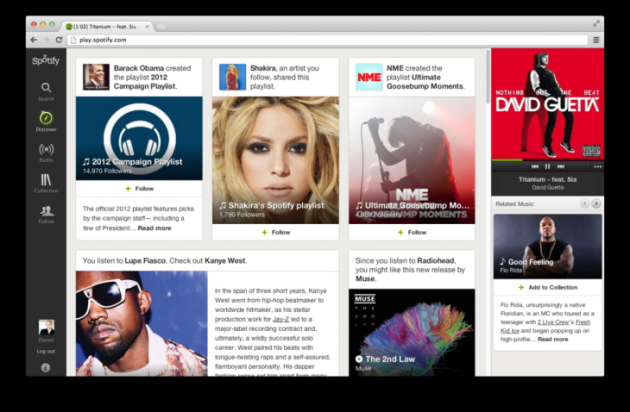 Fronted by company CEO Daniel Ek and presented simultaneously to journalists in London and New York, the event showed off Spotify's new social networking features, called Discover and Follow.
The new features are intended to help make discovering new music easier and there is also a new Collection tab for holding your music - an alternative to making playlists. The update is currently in the beta stage of testing, and will launch early next year.
Ek said that everyone's Spotify will look different, as the Catalogue section gathers music you've added to playlists, music shared by people you follow, and tracks recommended to you by Spotify; there's even a section showing you artists that are on tour near your current location, and content can be suggested based on your age.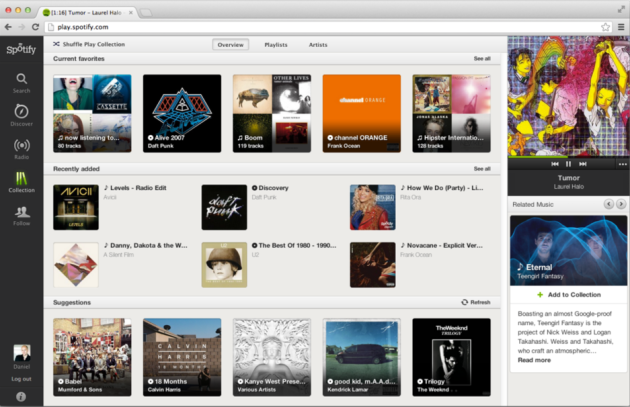 What all this means, is that Spotify is now made up of five sections - Search, Discover, Radio, Collection and Follow - accounting for a major revamp of the music streaming service.
Ek said: "We think of ourselves as punks because we're restless, and we hate when people tell us this is the way it is. We want to build something that will help artists for the long term."
Artists that will be available to follow on Spotify right away include Paul McCartney, Katy Perry and Justin Bieber, and all artists who are part of the Follow system can send push notifications to share new songs with fans.
For example, if you were following Metallica today then you would have got a notification saying that their back catalogue is now available on Spotify.
Before the main announcement, Ek revealed that Spotify now has 20 million active users, five million of which are paying subscribers.
Since opening its doors in 2008, Spotify has paid out more than $500m in royalties to artists and rights holders - equivalent to 70 percent of its revenue, Ek claimed.
Additionally, more than one billion playlists have been created by Spotify users, although before the announcement of Catalogue today, there was no easy way of storing your music without filing it into playlists.
Spotify investor Sean Parker was also present at the New York event, and explained how it is one thing to make piracy difficult, but another tactic is to make music far easier to access, which is what the updated Spotify aims to be.