Spotify now offers a free music streaming app for iOS and Android smartphones, along with an update to bring all free desktop features to tablets.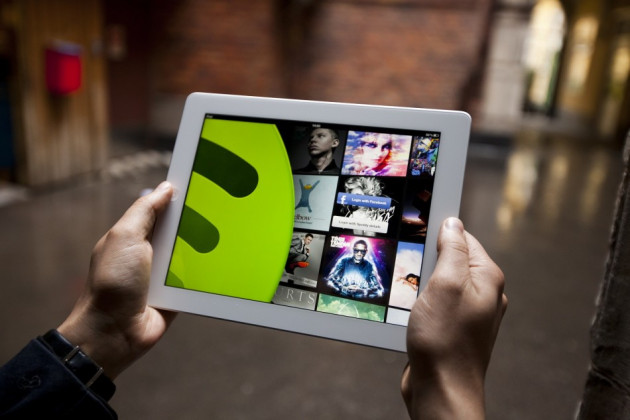 Speaking at a press conference in New York, Spotify CEO Daniel Ek explained that, while users of the free smartphone service will not be able to search for specific albums - or play tracks offline - they will have access to 1.5 billion playlists and shuffled catalogues of all artists on Spotify.
Described by Ek as "the way the next generation listens to music," the new smartphone app is available now and, although users will still have to listen to occasional adverts, they can select an artist and listen to their entire catalogue at no cost.
Disliked tracks can be skipped, while favourites can be added to the user's existing playlists (or to a newly created one) and any previously made playlists can be accessed and listened to.
Ek said there are currently 1.5 billion playlists to be streamed, made by users and Spotify's editors and artist partners, who have created a range of playlists claimed to fit the time and day you use the app - music designed to wake you up will be offered in the morning, for example, along with Christmas songs in December.
Because the app only plays back songs in a shuffled order, the user can only play, pause, or skip to the next song. Track cannot be replayed, individually selected, or saved for offline playback - for these features Spotify Premium at £9.99 per month is the only option, and this also removes adverts.
"We're giving people the best free music experience in the history of the smartphone," Ek said.
Desktop experience for tablet users
Alongside the new smartphone app, Ek announced that users can now experience the Spotify desktop app on their iOS and Android tablets. This means users can access their playlists and stream any tracks they like on-demand - although they will still have to listen to occasional adverts.
Citing declining PC sales and increasing tablet use, Ek said it makes sense for Spotify to offer the same experience on both desktop and tablet.
The music streaming service also announced it will be available in a further 20 countries immediately, and that Led Zeppelin's entire back catalogue is now exclusively available to stream on Spotify.