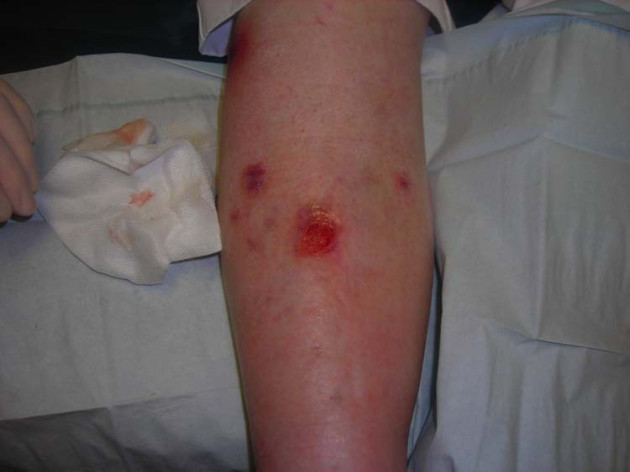 A newly developed "spray-on-skin" for chronic leg ulcers offers faster healing properties than current alternatives, according to a study from US and Canadian researchers.
The new treatment consists of skin cells (keratinocytes and fibroblasts) suspended in a mixture of different types of proteins associated with blood clotting. The cells are sprayed onto the affected area.
To determine the efficacy of the new treatment, researchers targeted 225 patients with venous leg ulcers, and the patients who were given an effective dosage of spray-on-skin, every 14 days, showed more improvement than those who did not receive the new solution.
In fact the spray-on treatment, when applied over a three-month period, healed up to 70 percent of patients, compared to 46 percent who underwent other treatments.
The researchers, who published in medical journal The Lancet, also found that the spray-on cells delivered much faster results than their alternatives. In fact wounds treated with the new therapy closed up to 21 days earlier than those which received conventional treatment.
"The treatment we tested in this study has the potential to vastly improve recovery times and overall recovery from leg ulcers without the need for a skin graft," said Dr Herbert Slade, one of the authors of the study.
"This means not only that the patient doesn't acquire a new wound where the graft is taken from, but also that the spray-on solution can be available as soon as required - skin grafts take a certain amount of time to prepare, which exposes the patient to further discomfort and risk of infection," he added.
Leg ulcers are very common in the UK, affecting around one in 500 people. Available treatments include use of compression bandages, and skin grafts - where skin tissue is taken from other parts of the body and affixed over the wound.