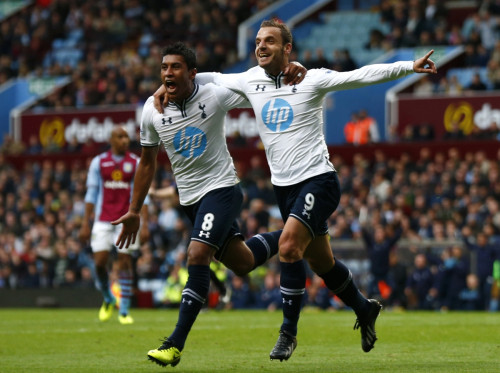 Former Tottenham Hotspur defender Gary Stevens has urged the club to resist spending big in the upcoming January transfer window.
Andre Villas-Boas was sacked on Monday after failing to manage the transition following the sale of Gareth Bale to Real Madrid, during a summer which included the signing of seven new players.
Tottenham will naturally look to January to improve their Premier League standing following heavy defeats to Manchester City and Liverpool but Stevens hopes the club will think twice before making further wholesale changes.
"I think the big problem Spurs have at the moment is that, having signed so many players in the summer, they've got a very unstable team out there," Stevens told talkSPORT.
"It can take up to a year, sometimes longer, for a foreign import to even settle down in a different country.
"Spurs don't seem to me to have a team out there at the moment.
"They're a highly talented group of individuals, I don't think that's in question, but you can pick the most talented players in the world but you don't necessarily have a team," added Stevens, who won the UEFA Cup with Tottenham in 1984.
"The problem at this moment in time is everybody wants it now. They want the results now, they want to see improvement on the pitch now, it has to happen now.
"A team wins a game and they're a great team, somebody scores a hat-trick they're a wonderful player. But in the next game, if they lose or they don't score suddenly they're no good.
"Everything is too much about the moment now, and I think you have to have a long-term view, you have to look at it over a longer period.
"But it would appear very few clubs, and very few decision makers at clubs, are prepared to wait for results."
Tottenham's more immediate concerns centre around finding a permanent replacement for Villas-Boas, who was dismissed following the 5-0 loss to Liverpool.
Fabio Capello, Michael Laudrup, Guus Hiddink, Glenn Hoddle and current temporary manager Tim Sherwood are among the candidates as chairman Daniel Levy seeks to appoint the eighth different manager of his 15-year spell at White Hart Lane.