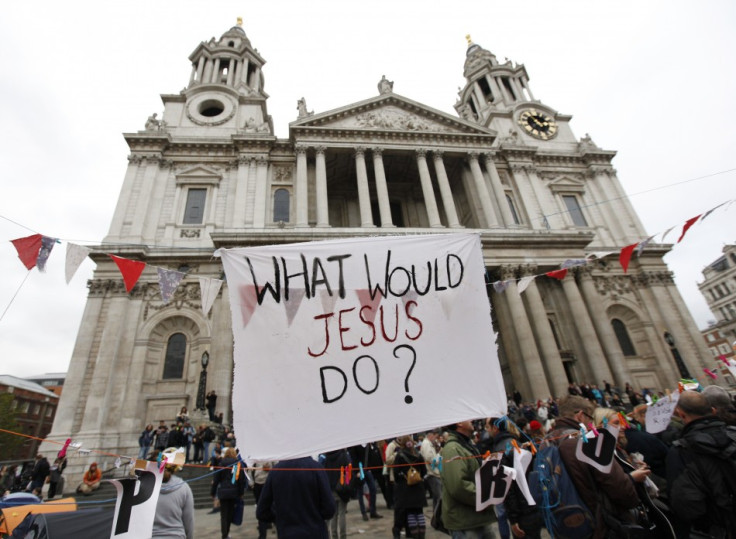 Occupy London Stock Exchange protesters camping outside St Paul's Cathedral may stay for good, they say.
Ronan McNern, a spokesman for OccupyLSX, told the Daily Telegraph: "I have spoken to some of our camp who say it should be a permanent backdrop and that we should be here beyond the Olympics."
But he added: "Things are changing so fast that we can't really say anything for certain."
The Telegraph also reports that the activists will hold a "provocative but peaceful" protest during the Lord Mayor's annual parade on Nov. 12.
They also plan to hold a "symbolic" protest on the following day during St Paul's Remembrance Service.
Protesters in the OccupyLSX movement were invited to a meeting with the City of London Corporation Wednesday.
Activists were offered a deal that would see them stay until the New Year, before peacefully moving on of their own accord.
The deal would see a slight reduction in the camp's size, to improve access for visitors to the cathedral.
In a statement on the OccupyLSX website, Tina Rothery, one of the representatives at the meeting, said: "We are delighted. This is a great U-turn from the City of London Corporation. Only on Tuesday morning, the Corporation was about to attempt to evict us. Now they are offering a reprieve."
The Corporation halted legal action to remove the protest camp, after St Paul's decided it shouldn't be an option.
But Stuart Fraser, Policy Chairman of the City of London Corporation, stressed they have only "hit the pause button".
In a statement, he said: "Our objective is to ensure the highway is cleared and this issue is resolved peacefully. The church has changed its position with regards to a camp being on its land, which means that we have had to rethink as well.
"So we have pressed the pause button so that discussions can take place with protesters and others on how we can resolve the problem we face as a local authority - namely camping on the public highway."
The City of London Corporation had originally planned to use legal action to help St Paul's remove protesters from outside the cathedral.
St Paul's then announced Tuesday that it would no longer pursue legal action, following the resignation of Graeme Knowles, the cathedral's Dean, who quit over the church's handling of the protesters.
They had already suffered one earlier resignation, when Canon Dr Giles Fraser quit because he "couldn't face a Dale Farm on the steps of St Paul's".
The Bishop of London, Dr Richard Chartres, said: "The alarm bells are ringing all over the world. St Paul's has now heard that call ... the doors are most emphatically open to engage with matters concerning not only those encamped around the cathedral, but millions of others in this country and around the globe."