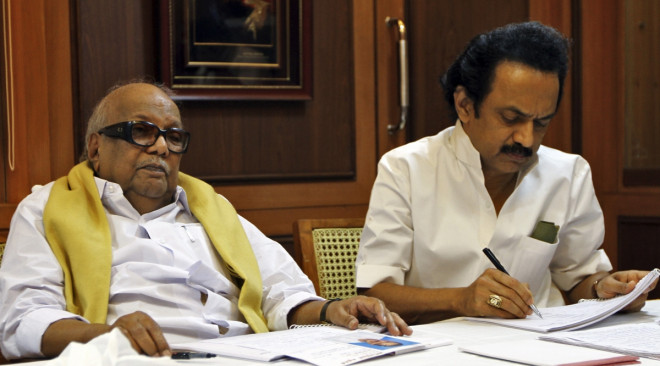 He wears a moustache, is involved in politics and in the photo above he looks like he could signing a few death warrants: Yes, Stalin is back in action.
Yet this is MK Stalin – not the general secretary of the CCCP and feared dictator, after whom this Indian politician is bizarrely and lovingly named.
It seems MK's name has been no bar to electoral success, after it was given him by the older man in the photo, Dravida Munnetra Kazhagam - who is his father and a politician who has spent decades immersed in the murky world of Indian politics.
MK Stalin's current job is deputy chief minister of Tamil Nadu state and he has long faced accusations he owes his place to daddy - who bears the signs of years spent living off the fat of the land in India.
Yet MK Stalin, 61, is now in danger of doing something his namesake never would: failing to win an election. He is currently gearing up for an election campaign in the state of Tamil Nadu and the result is predicted to be too close to call.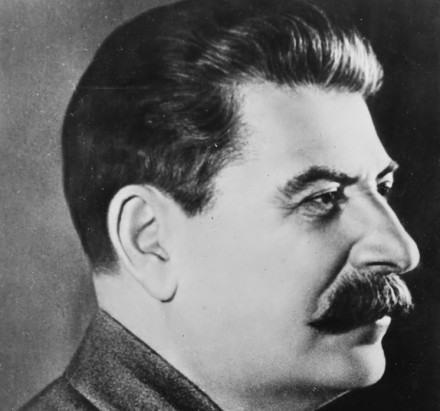 M K Stalin acquired his distinctive name because the Russian dictator died in the same week in 1953 as he was born.
The original Stalin made sure he never allowed an election to go ahead without being pretty confident about who was going to win it. Unfortuntely for MK Stalin, there is no such luxury available this time.
That is because MK Stalin and his father look set to feel the heat from a rival party named AIADMK. It is led by a female politician named Jayalaalithaa.
She is threatening to grab a big enough of votes in Tamil Nadu to win a big portion of the 39 seats allotted to the state in the 543-seat national parliament, which local media report would make a powerbroker on a national level.
Campaigning gets underway early next month.
The original Stalin didn't have too much time for democracy, especially not the type set to be played outTamil Nadu.
One thing Uncle Joe Stalin may have liked about Tamil Nadu is the trend it has for delivering landslide election results. But that could well not happen this time, with Jayalaalithaa. threatening to upset the proverbial auto rickshaw.
The answer to the old question of what's in a name for the Indian MK Stalin, may yet be: not a whole lot.