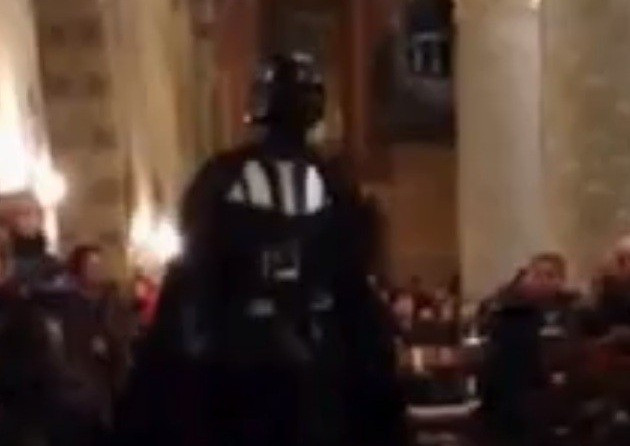 A 29-year-old Italian man who strolled into a church dressed as Star Wars baddie Darth Vader during Christmas Eve mass has emerged on YouTube.
The man, known only as Marco, strolled into the church in the small northern Italian town of Frugarolo, wearing the character's signature costume. He wandered around the building and then left as surprised worshippers looked on.
He was stopped outside the church by two Italian police officers who brought charges at the local court. Marco, who uploaded the video on Facebook and received hundreds of visits, is accused of interrupting a religious celebration.
"I was not present during the celebration. Some citizens complained that it was really bad taste," said Frugarolo's mayor Pietro Gazzaniga.
Marco told website Oggi that he did not disturb the mass as he entered the church at the end of the celebration.
"The priest did not realise I was there," he said. "The joke lasted 20 seconds from the moment I stepped inside the church. I'm really sorry that carabinieri denounced me. It was a prank."