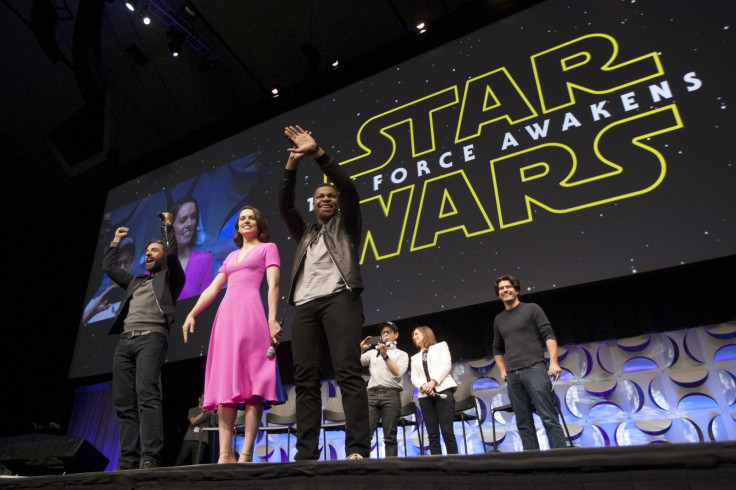 Disney's stock value surged by almost $2bn (£1.34bn) after it released the trailer for its new film, Star Wars: The Force Awakens.
The two-minute clip of the movie was premiered at the four-day Star Wars Celebration event in Anaheim, California. Shares rose 1% to a high of $108.30, but closed 20 cents lower.
Disney acquired the Star Wars franchise in 2012 as part of its $4.05bn (£2.71bn) purchase of Lucasfilm Ltd and millions of fans took to YouTube to watch the video while reactions were shared on Twitter.
The scenes were frenetically analysed by Star Wars enthusiasts as wild speculation circulated that Darth Vader may still be alive.
The trailer shows the mangled helmet of Darth Vader and Luke Skywalker's monologue from Return of the Jedi where he says: "The Force is strong in my family. My father has it. I have it. My sister has it. You have that power too", and features by Han Solo and Chewbacca.
Star Wars heros return
Harrison Ford is reprising his role as Han Solo while Mark Hamill will also return as Luke Skywalker.
The movie is due to be released on 18 December, and is to be the first in a new series for the popular franchise.
Speaking at the Anaheim Convention Centre, Hamill thanked the franchise's supporters. "Over the years, all my entire life, I've felt such love from you," he said. "You're more than just fans. You're family."
The film stars two British actors, Daisy Ridley as a scavenger named Rey, who she describes as "very solitary until she meets another character and an adventure begins", and John Boyega as Finn, and AWOL Imperial stormtrooper.
Speaking about the pressures involved in "honouring the legacy" of the popular franchise, movie director JJ Abrams said: "Though there are moments of sheer horror, the opportunity far outweighs the risk."