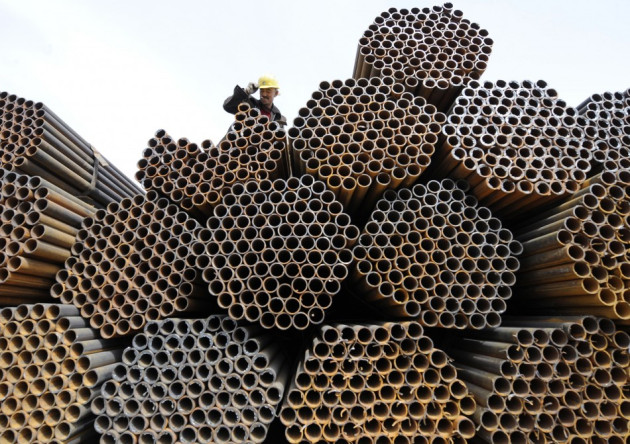 The US Commerce Department has launched an investigation into the alleged flood of cheap steel pipes being shipped to America by manufacturers based in nine different countries.
The investigation's focus is on steel pipes used by the oil and natural gas industry. Rising oil and natural gas production in North America has led to a surge in the demand for the product, which is at its highest in 25 years.
US Steel, the largest producer of the metal, and other manufacturers are demanding hefty anti-dumping duties, ranging between 111% and 240%, on imports from Vietnam, Thailand, South Korea and India to compensate for what they claim is below-market pricing.
America's steel industry also wants high duties on imports from the Philippines, Saudi Arabia, Taiwan, Turkey and Ukraine. It is also seeking further countervailing duties on India and Turkey, to make up for alleged government subsidies.
The US International Trade Commission (ITC) heard the allegations against the foreign suppliers on Tuesday. It will decide in mid-August whether there is enough evidence that imports are hurting domestic firms, and the Commerce Department will continue its investigation following the ruling.
The Commerce Department is expected to make a preliminary decision on countervailing duties in September and on anti-dumping duties in December. Final decisions will only be released in 2014.
Surge in Imports Threaten US Jobs
The United Steelworkers Union warned that the surge in steel pipe imports posed a threat to the jobs sector.
Imports of oil country tubular goods (OCTG) from the nine countries totalled $1.8bn (£1.2bn , €1.4bn) in 2012, more than double their total in 2010. The latest case targets South Korea, which exported about $831m worth of pipes to the US last year.
OCTG manufacturers Maverick Tube, Energex Tube and TMK IPSCO are also part of the case.
US Steel spent $2.1bn in 2007 to boost its own OCTG production with the acquisition of a smaller manufacturer. However the company's senior vice president, Doug Matthews, told the ITC: "For three years now, I have heard the same tale from our salesmen: Imports are underselling us. We must lower our prices or our customers will go elsewhere."
The surge in imports has deprived American producers of "the benefits of recovering demand," Brad Lowe, a senior executive at Maverick Tube told the Commission. Meanwhile Lindra Andros, legislative counsel at the United Steelworkers Union, said "if unfair trade is left unchecked, ... there is no doubt that many of our members that produce these products will begin being laid off."
Scott Barnes, senior vice president at TMK IPSCO, said OCTG imports have fallen so far in 2013 after the industry "aggressively fought imports" with price cuts in the latter part of 2012.
In 2010, the US imposed duties on the imports of OCTG from China after they hit about $2.8bn in 2008. That created a window of opportunity for the other foreign suppliers.