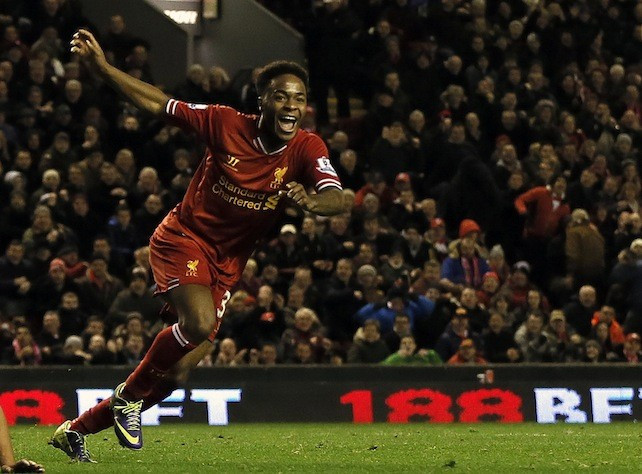 Raheem Sterling has revealed Steven Gerrard's massive influence on the Liverpool youngsters, making sure that they keep their feet firmly on the ground.
After a difficult childhood with a number of issues due to his behaviour, the 19-year-old has finally overcome his bad reputation to excel with both Liverpool and England.
And Sterling believes that the Liverpool captain has been crucial in his career.
"High-end players like Steven Gerrard will always make sure that your feet are firmly on the floor," Sterling told Liverpool's official website.
"I also now have the confidence to go and play as I have got players like Luis [Suarez] and Stevie [Gerrard] giving me encouragement. It's a credit to them."
The Liverpool starlet has enjoyed a sensational run of form lately, scoring six goals since December, including a double in the 5-1 victory over Arsenal.
And after being on the bench against Cardiff and Sunderland, Sterling regained his place in Brendan Rodger's line-up during the 4-0 victory over Tottenham.
"It was disappointing being on the bench for the last two games, but I knew I had to be ready if I was called back. I am grateful to the manager for having the belief to put me in for a big game and happy the team got the win," Sterling said.
"It was a great team performance and I thought the boys did really well. We've been working really hard in training and it was great to get the three points.
"It is great to have a manager who has belief in you. As a young player that is what you cry out for. I am just grateful to have a manager like that at this club."
Sterling also praised the Kop, claiming that the Tottenham game was like a Champions League match due to the amazing atmosphere.
"It was a great atmosphere, the best I've seen. It is a credit to the fans. It is the first time I have seen the fans like that. I've heard about it in the Champions League - but it was great to see it, not only on Sunday but against Sunderland in midweek.
"The manager said beforehand that it was great to have them behind us, our 12th man. The atmosphere coming to the stadium and in the stadium was really good,"
Liverpool will travel to West Ham on Sunday before their crucial game against Manchester City, while they also have to face Chelsea at Anfield next month.
"It is going to be difficult with those two coming here, but we'll take it as it comes. We really fancy ourselves against anyone coming here, but we will take it step by step and try to do the business when they come," Sterling added.
"Are we allowing ourselves to dream? Definitely. I think as the season goes on we have a bit more belief but we can't get ahead of ourselves, we have to take it game by game. But coming to the last six games there is a really good atmosphere at the training ground."