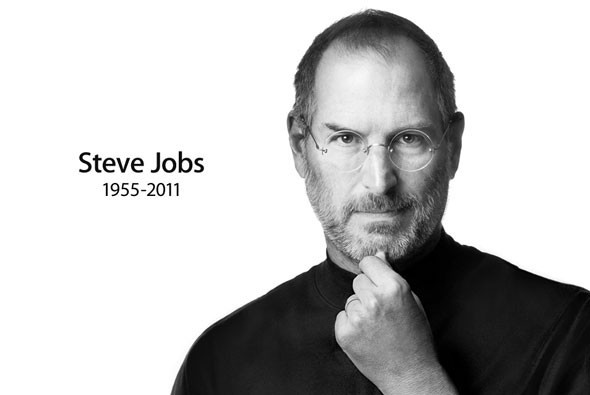 We take a look at the rollercoaster ride that was Steve Jobs. The ups and downs are numerous, from getting sacked to becoming CEO of Apple Inc.
1955: Steve Jobs was born in San Francisco and adopted by Paul and Clara Jobs, who also adopted a daughter, Patti.
1972: Jobs graduated from Homestead High School in Cupertino, Calif. He regularly attended lectures at Hewlett-Packard,where he would eventually be hired as a summer employee. He also enrolled at Reed College in Portland, Ore., but dropped out after just one term.
1974: Jobs returned to Cupertino and attended meetings at the Homebrew Computer Club with Steve Wozniak, later co-founder of Apple. He also got a job as a technician with Atari, where he intended to earn money for a spiritual journey to India.
1975: Jobs came back from his trip to India, sporting a bald head and full Indian attire; he got his job at Atari back and was soon involved in the production of video games. During his time at Atari, Nolan Bushnell - Atari's founder - was keen to reduce the number of computer chips within a gaming system and offered Jobs $100 per chip he could remove. He outsourced this work to his old friend Wozniak, promising him 50 percent of the bonus. Jobs gave Wozniak $350 for the work, despite Atari having paid him $5000.
1976: Steve Jobs, Steve Wozniak and Ronald Wayne founded Apple. The company instantly had a stable growth and within two years, the founders began looking for an executive to help manage the expansion.
1978: Apple recruited Mike Scott to be CEO, something Jobs would later regret. Later Scott fired 40 Apple employees claiming they were redundant. He gathered the rest of the employees over a keg of beer stating: "I used to say that when being CEO at Apple wasn't fun anymore, I'd quit. But now I've changed my mind - when it isn't fun anymore, I'll fire people until it's fun again."
1981: Scott resigned as Apple CEO. In 1983 Jobs hired John Sculley from Pepsi, asking him: "Do you want to sell sugar for the rest of your life, or do you want to come with me and change the world?"
1984: Apple aired its first Super Bowl commercial and in the same year, Jobs announced the Macintosh to a hugely enthusiastic audience which was described as "pandemonium" by Andy Hertzfeld. It was the first successful computer to have a graphical user interface.
1985: Jobs was fired from the Macintosh division by Sculley. Jobs said: "The heaviness of being successful was replaced by the lightness of being a beginner again, less sure about everything. It freed me to enter one of the most creative periods of my life."
1986: Jobs founded another company called NeXT Computer. It was largely dismissed because of the high cost - despite major technological advancements - but did have a cult following among those who could afford it. During the latter half of 1986, Jobs bought The Graphics Group - later know as Pixar - from LucasFilm for $10 million.
1996: Apple announced they would be buying NeXT for a reported $429 million, the deal was finalized later that year. Jobs was back in an executive position in the company he founded.
1997: After then-CEO Gil Amerlio was removed in July, Jobs was named as interim chief.
1998: Jobs ended a number of anticipated projects such as Cyberdog, Open Doc and Newton. He quickly developed a reputation for being "trigger happy" firing staff.
2000: The Mac OS X was born as a successor to NeXTSTEP, with Jobs' guidance, and the introduction of the iMac, the company had huge increases in profitability. At the Macworld expedition, Jobs officially announced that he would become Apple's CEO. He also claimed he would use the title 'iCEO'.
2002: The company launched the iPod, one of its most successful products to date. Later that year it announced a larger storage version of the device.
2004: Apple launched the iPod mini, which sold more than double the amount of its predecessor.
2005: Apple's most successful year yet saw the release of the 'Classic 4G Photo' which could store photos and play music; it sold more than 4 million copies in three months.
2007: Jobs announced the iPod touch which was a huge commercial success (although the biggest success would be in the second and third generation of the model). Later that year, the iPhone was announced, which changed the way we think about mobile technology.
2008: The second generation of iPhone was announced and was named the 3G. It sold over a million units in its first weekend.
2009: Phil Schiller announced iPod sales had exceeded 220 million. Jobs also announced the iPhone 3GS which was a huge technological advancement over the 3G and sported video filiming capability.
2010: Last year was the launch of Apple's most popular phone of all time the iPhone 4, as well as the fourth-generation Shuffle and Touch and the sixth-generation Nano. 2010 was not as great sales wise as 2009: Apple's most successful year to date.
2011: Jobs resigned in August as CEO of Apple, but remained as the company's head of board, the news caused Apple stock to drop by 5 percent. When Jobs died Wednesday, a day after the announcement of the iPhone 4S, his net worth was more than $8 billion dollars, he was the 42nd wealthiest American.
Testimonials
Part of President Barack Obama's statement:
Steve was among the greatest of American innovators - brave enough to think differently, bold enough to believe he could change the world, and talented enough to do it. By building one of the planet's most successful companies from his garage, he exemplified the spirit of American ingenuity. By making computers personal and putting the internet in our pockets, he made the information revolution not only accessible, but intuitive and fun. And by turning his talents to storytelling, he has brought joy to millions of children and grownups alike. Steve was fond of saying that he lived every day like it was his last. Because he did, he transformed our lives, redefined entire industries, and achieved one of the rarest feats in human history: he changed the way each of us sees the world.
Bill Gates released a statement saying:
I'm truly saddened to learn of Steve Jobs' death. Melinda and I extend our sincere condolences to his family and friends, and to everyone Steve has touched through his work. Steve and I first met nearly 30 years ago, and have been colleagues, competitors and friends over the course of more than half our lives. The world rarely sees someone who has had the profound impact Steve has had, the effects of which will be felt for many generations to come. For those of us lucky enough to get to work with him, it's been an insanely great honor. I will miss Steve immensely.
Walt Disney Co. President Bob Iger said:
Steve Jobs was a great friend as well as a trusted advisor. His legacy will extend far beyond the products he created or the businesses he built. It will be the millions of people he inspired, the lives he changed, and the culture he defined. Steve was such an "original," with a thoroughly creative, imaginative mind that defined an era. Despite all he accomplished, it feels like he was just getting started. With his passing the world has lost a rare original, Disney has lost a member of our family, and I have lost a great friend. Our thoughts and prayers are with his wife Laurene and his children during this difficult time.
Mark Zuckerberg wrote on Facebook:
Steve, thank you for being a mentor and a friend. Thanks for showing that what you build can change the world. I will miss you.