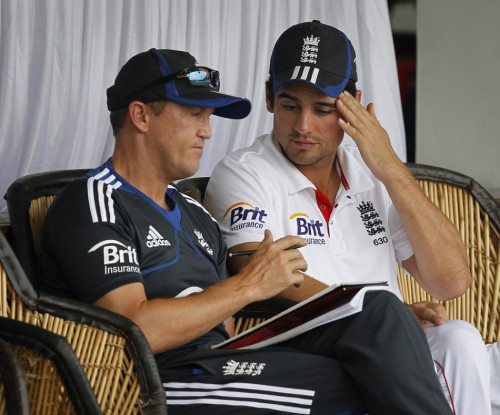 Steven Finn and Joe Root have vowed to support England coach Andy Flower after relincquishing the Ashes to Australia.
An overhaul has been demanded in the wake of defeat in the third Test in Perth but Flower is stilll to commit to leading England in the immediate future.
"He's been fantastic for the group," said Finn in an interview with BBC Radio 5 Live.
"He's always working extremely hard to make sure that we're as prepared as we can possibly be for Test matches. It would be a great loss if he goes."
He added: "I've had a really good working relationship with him and a personal relationship."
Flower previously led England to three successive Ashes series victories and also guided the team to victory in the Twenty20 World Cup in 2010 but earlier this year was replaced by Ashley Giles as one-day coach.
The Zimbabwean, 45, has been urged by former England captain Geoffrey Boycott to make a decision quickly so that England can make plans for the future.
Root meanwhile says that the team should not look any further ahead than to Boxing Day when England will start the fourth Test in Melbourne.
"He has done a fantastic thing for English cricket over his career," said Root of Flower.
"He's been very good for my development as a player. It's been great working with him and hopefully that can continue."
He added: ""It's a massive game for us and we want to put a lot of things right.
"If we start looking too far ahead, things could slip away."