Steven Gerrard will lead England during this summer's European Championships after being confirmed as manager Roy Hodgson's new captain.
The Liverpool midfielder, who has won 89 international caps, is the first permanent skipper since John Terry was stripped of the armband during the twilight of Fabio Capello's reign as manager.
Gerrard was captain of the Liverpool side during Hodgson's six-month reign at Anfield in 2010, and his familiarity with the talismanic midfielder was behind his reasoning for handing him the captaincy.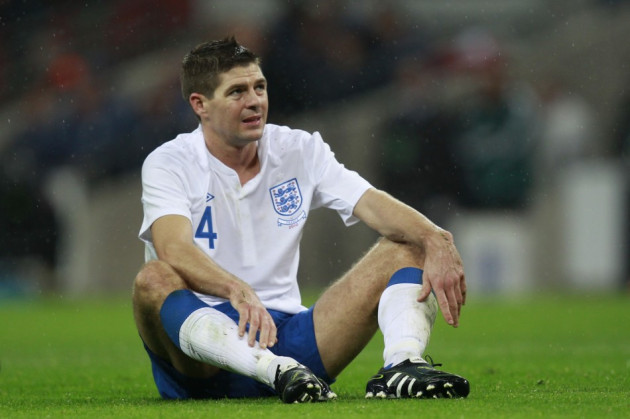 "I know him as a player and a person and how committed he is to the England cause," Hodgson said. "He will help me build the team unity and environment we need to thrive in a tournament."
The 31-year-old will lead a 23-man England squad into Euro 2012 without former-skipper Rio Ferdinand, who was omitted at the expense of Chelsea captain John Terry, who is facing criminal charges for the use of racial language.
Hodgson denied that Terry's impending court case could distract him during the summer, while revealing Ferdinand's disappointment at the snub.
"John Terry's court case hasn't distracted him from lifting FA Cup or reaching Champions League final," he said. "He's innocent until proven guilty. It's another decision based purely on football.
"My decision is based purely on footballing matters. I realise people may raise eyebrows but that is a decision I shall live with.
"He [Ferdinand] was very gracious. He was obviously disappointed. He wished me and the team good luck in the tournament"
"I had to go on the basis of what I've seen in recent months. He has only played once for England in the last year. I have spoken to both of them & explained why I came to the decision."
Two uncapped players, Arsenal's Alex Oxlade-Chamberlain and Norwich City goalkeeper John Ruddy, have both been included in Hodgson's first squad, and the new manager hopes the pair can be the future of England for years to come.
On Chamberlain, he said: "He is a very, very exciting player. He's given one or two performances that have made quite an impression on me, particularly against Milan."
"John Ruddy has had an excellent season at Norwich," he added.
"He offered to postpone his wedding, but I warned him it might be dangerous to do that"
"It's very dangerous to postpone weddings at the last moment, so I told Ruddy we'd deal with the Belgium game with Hart & Green"