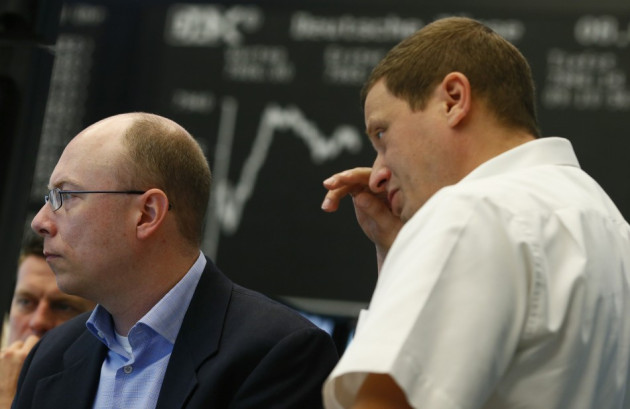 European markets outside Germany opened higher on 5 November, hitting five-year highs for a third time in a week.
However, markets trading to the downside thereafter as investors digested corporate earnings and awaited interest rate decisions from central banks in Britain and Europe.
The Stoxx Europe 600 index opened 0.2% higher to 323.22.
Britain's FTSE 100 and France's CAC 40 opened 0.1% higher.
Germany's DAX 30 opened flat.
Spain's IBEX 35 was trading 0.54% lower after opening higher.
Italy's FTSE MIB was trading 0.41% lower after opening higher.
Market participants will be tracking the Bank of England (BoE) and European Central Bank's (ECB) policy meetings scheduled for 7 November, when both central banks will announce their interest rate decisions.
While the BoE is expected to leave its monetary policy unchanged, the ECB could lower its main refinancing rate, at 0.50% currently.
Preliminary data from the eurozone's statistics office showed last week that inflation unexpectedly dropped to 0.7% year-on-year in October, the lowest for nearly four years. The reading points to a stuttering economic recovery in the 17-nation bloc and could warrant an ECB rate cut, according to analysts.
In company news, British retailer Marks & Spencer reported a slight increase in profit for the first half of 2013 on the back of improved domestic and international revenues.
The company, which serves 21 million customers a week from nearly 770 stores in the UK, said its pre-tax profit for the 26 weeks ended on 28 September edged up to £280.6m ($447.4m, €331.4m) from £280m in the same period last year. Nevertheless, excluding one-time items, underlying profit before tax dropped to £261.6m compared with £287.3m a year ago.
Ultra-discount retailer Primark has boosted its parent company's results after posting a 44% surge in profits.
Primark owner, Associated British Foods, reported higher than expected annual profits following a surge in activity at its discount clothing chain, whose annual operating profit topped half a billion pounds this year.
UK retailers had a tough October as sales only rose slightly on the previous month on poor food and clothes sales. According to the British Retail Consortium, retail sales jumped by 2.6% year-on-year in value terms in October, a small rise from September's 2.4% figure, but below the 3% average recorded between May and August.
In Asia and the US
In Asia, the Japanese Nikkei, Australia's ASX and the Shanghai Composite finished higher on 5 November.
Hong Kong's Hang Send and South Korea's Kospi finished lower, while India's Sensex was trading some 1% lower.
Earlier, markets witnessed mixed trade, ahead of central bank meetings in Europe and ahead of the release of key economic data from the US
Market players in Asia await US third quarter GDP data due on 7 November and the crucial US nonfarm payrolls data due on 8 November, which will throw more light on the health of the world's largest economy.
In China, premier Li Keqiang said the world's second largest economy needed to sustain a minimum of 7.2% economic growth if it wanted to ensure a stable job market.
China's benchmark index bounced back from a one-week low hit in intra-day trade after Li's comment.
Elsewhere, in Australia, the country's central bank left its cash rate unchanged at a record low 2.5%. The Reserve Bank of Australia (RBA) said the Australian dollar still remains "uncomfortably high" and that a lower currency is needed for balanced economic growth.
In addition, the RBA said uncertainty still surrounded the non-mining sectors of the economy.
On Wall Street, indices ended slightly higher on 4 November, as investors exercised caution amid the uncertainty surrounding the future pace of the Federal Reserve's $85bn a month bond-buying stimulus.
Earlier, St. Louis Fed President James Bullard said the central bank's current asset purchases had taken place at a "torrid pace".
"It's a very reasonable thing to do to substitute for the fact that you can't lower interest rates any further," he said.
The Dow finished 23.57 points higher at 15,639.12.
The S&P 500 ended 6.29 points higher at 1,767.93 while the Nasdaq closed 14.55 points higher at 3,936.59.