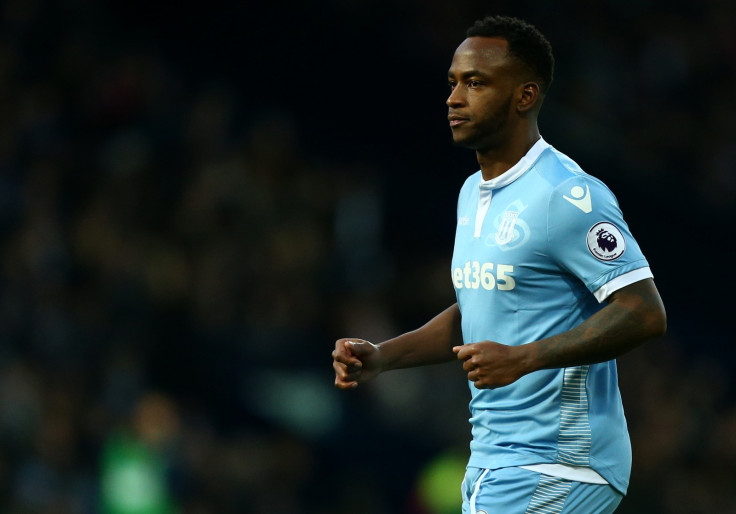 Stoke City striker Saido Berahino believes that a spiked drink led to him failing an out-of-competition drugs test in September 2016. The 23-year-old had not played for former club West Bromwich Albion for four months prior to his £12m ($14.9m) January move to the bet365 Stadium amid apparent concerns over his weight and fitness, although it subsequently emerged that he had previously served an eight-week FA suspension.
Addressing that situation during a BBC interview set to be aired during Saturday's (1 April) edition of Football Focus, Berahino insisted that he had never taken drugs and that his drink had been spiked in a nightclub.
"All I can say is, I didn't know how it got into my system," he revealed. "We had specialists that analysed me and took my hair follicles for six months. I've never taken drugs in my life. No-one in my family takes drugs. There was nothing in my hair, there was no cannabis, no cocaine, no MDMA.
"The threshold that I found, I was 10, whatever it's called, over. So that couldn't have gotten me high or nothing. It was just one of them things like, you go on a night out, you don't know who you are around and there's people out there to get you or whatever. Of course I was in the nightclub, so I hold my hands up for being irresponsible.
"From then on it all crashed down. Until this day, I still can't understand who would want to do that to me. It's been really tough. There were a lot of investigations and the FA did help. It was tough to take, because me, my mum, they've never seen me take drugs. So for me to get banned for something that you really haven't done is hard to take."
Asked if his drink was spiked, Berahino, who rejected any notion that he had been protected by West Brom, added: "Yeah, definitely. Because if I was going to get high, like the specialist said, you would have taken an amount where you want to get high and the threshold and the numbers that they found in my system would have been higher. But it was really, really low."
Berahino spent a total of 13 years at West Brom and enjoyed a stellar 2014-15 campaign, but his relationship with the club soured in the aftermath of an ill-advised and public strike threat issued followed a failed deadline day switch to Tottenham Hotspur. Reduced to a peripheral role and having seen his previously promising career completely stall, the Burundi-born ex-England U21 international, whose last top-flight goal came 13 months ago, rejected three new contract offers before sealing a move to the Potters.
"I was depressed," he explained of that difficult period. "Every morning I walked in the training ground I didn't want to be there. Going from loving something and hating the place that has made you is hard to take. Hate is a strong word but I really didn't want to be there. That is one of the reasons I didn't sign the contracts they put on the table. It was not about money, it was about my happiness."