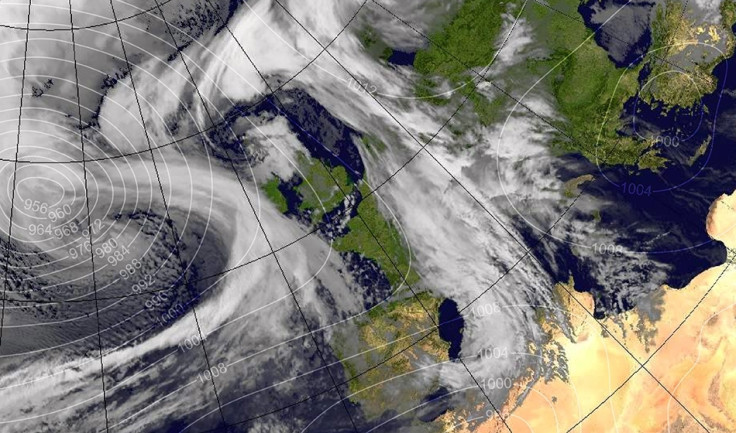 Severe weather warnings have been issued by the Met Office as Storm Ewan approaches in the wake of the havoc of Storm Doris.
Ewan was named by the Irish Meteorological service Met Éireann and will bring freezing temperatures and strong winds to Ireland. The fifth named storm of the season will then move across the Irish sea later on Sunday (26 February).
The worst-hit areas will be in Scotland, Wales and the north-east of England, according to the Met Office.
Fierce gales of up to 70mph could hit the north-west of the UK, particularly in coastal areas.
The beginning of March sees a cold snap with snow and temperatures of -2C on Monday, with hail and thunder across the country.
Snowstorms are expected in the north of the country with exposed, higher locations the worst hit. Biting Arctic temperatures caused by incoming Polar air could see the mercury drop to -5C by Wednesday.
A Yellow National Severe Weather Warning for strong winds was issued in north-west Wales, north-west England and eastern Scotland.
Chief Meteorologist Eddy Carroll said: "Sunday will be a wet and windy day in the UK, especially in the north and west. However, the impacts are unlikely to be at same level as could occur in Ireland. Whilst there is still some uncertainty, the wind speeds forecast for the UK on Sunday are very unlikely to be of the same strength we saw earlier in the week with Storm Doris."
Two months of colder-than-normal weather conditions for March and April have been predicted. Government forecasters said a "more prolonged cold spell" with snow threatens Britain from mid-March.
The Weather Company said: "Forecast models indicate a cold risk across the UK at the beginning of March."
The Weather Outlook forecaster Brian Gaze added: "Spring could start on a wintry note, with forecast models suggesting a very cold and snowy spell during the first half of March.
"Winter looks like having a sting in its tail."
Storm Doris left three people dead and a schoolgirl was seriously injured after a school sports hall ceiling collapsed. Top wind speeds of 94mph were recorded in north Wales and the clear-up operation of Storm Doris could reach upwards of £400m ($498.40m).