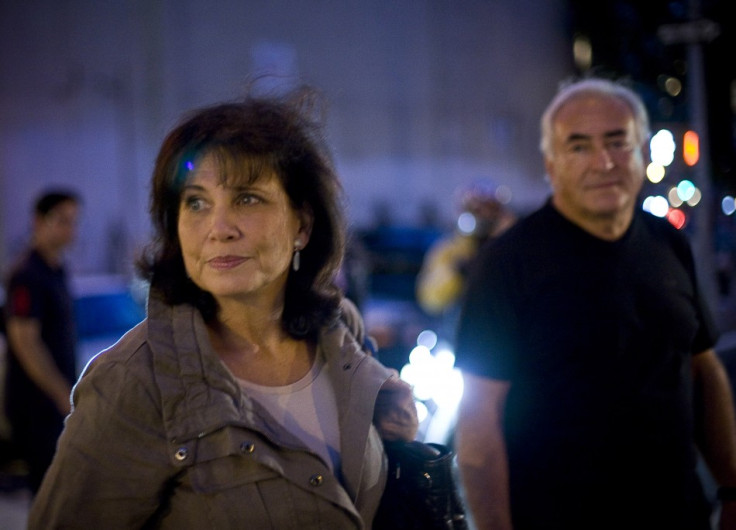 Despite trying to keep a low profile, Dominique Strass-Kahn continues to be in the spotlight after the ex-IMF chief was hit by a new scandal, with sources saying it is all becoming too much for his wife, Anne Sinclair.
A year ago, Dominique Strauss-Kahn was running the International Monetary Fund and was expected to run in, and prossibly win, next year's French presidential election.
In six months, however, Strauss-Kahn has become the least liked politician in France after being accused of sexual assault on maid in a New York hotel.
DSK, as the French papers call him, is now once again dominating the front pages after his name was linked to a high-profile investigation into an alleged prostitution ring at a luxury hotel in Lille.
The Hotel Carlton affair has gripped France for the last few days, as several figures have been accused of providing women from France and Belgium to some of the hotel's costumers.
Eight people are now under investigation, including a senior police officer, a local barrister and a businessman. While the investigation continues, five people have already been imprisoned.
While prostitution involving people over the age of 18 is not illegal in France, pimping is.
Strauss-Kahn became involved as allegations emerged that businessmen allegedly paid women to travel from Paris or Brussels to the U.S., to have "special parties", with him, at his request. Some of the parties allegedly took place while the French politician was still working as the head of the IMF.
The French newspaper Le Monde also reported that a senior French police officer visited Washington with a group of women, who worked in massage parlours in Belgium, especially ordered by Strauss-Kahn.
The group allegedly visited Strauss-Kahn three times, with the last visit being on May 13, the day he was arrested after Nafissatou Diallo, a hotel maid in New York, accused him of trying to rape her.
The first visit reportedly took place at a Paris hotel in 2009. A sex worker told the French newspaper Le Point that the French politician was in a duplex hotel apartment with other guests and was wearing a bathrobe. She says she was paid €900 (£770) by a businessman.
Another sex worker, named Jade, told the paper Nord Éclair that she too was sent to visit the ex-IMF chief, this time in a hotel in Washington, and was paid by a businessman on her return to France.
Last week Le Point and Liberation also published a series of text messages allegedly sent from Strauss-Kahn to Fabrice Pazskowski, a businessman involved in the affair, and which are now being investigated by the police. In the texts the two men seem to be discussing nights and soirées with other women, but do not directly refer to prostitution.
Strauss-Kahn would not be in legal trouble if the investigation found him responsible only for sex with adult sex workers, but he could face charges if it is found that the businessmen or police involved in the case benefited from political favours in exchange for providing "company" or girls to him.
Strauss-Kahn's lawyer, Henri Leclerc, told the Guardian he had no comment to make on the case and said his client had not yet been interviewed by investigators.
The scandal is now taking a new turn after anonymous sources have told the French press the politician and his wife, Anne Sinclair, are considering a divorce.
Anne Sinclair, a well-known French journalist has put on a brave face since the arrest of her husband in New York, and has reiterated her support for him ever since. But the French daily Le Parisien now says that hurt by the extent of Strauss-Kahn's lies, she is now considering a divorce.