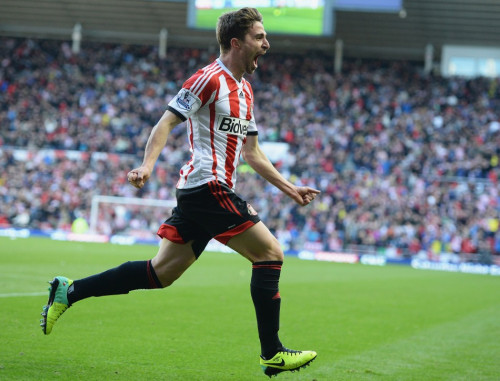 Udinese have insisted that they have no interest in purchasing Fabio Borini with the striker's agent insisting that his future is with Liverpool.
Borini joined Brendan Rodgers at Merseyside as one of his first signings as manager of the club in the summer of 2012.
The 22 year old was touted for big things with Liverpool having worked with Rodgers before at Swansea but injury hampered his chances of becoming a regular feature in the line-up over the 2012-13 season.
And by the summer of 2013 it appeared that Rodgers had lost faith in the striker to produce, sending him on a season-long loan to Sunderland in the final days of the transfer window.
Borini has so far scored three times in 18 appearances for the Black Cats who currently sit in the relegation zone.
And while a move to Udinese has been touted, the Serie A side insist they are not chasing the Italy international in the current transfer window.
"Honestly, [Borini] is not a player that interests us at the moment," he told Calcio News.
"We have Di Natale and I am convinced that he will understand that there is still life in him yet."
Borini scored nine times in 24 appearances for Roma before making the £10m move to Liverpool nearly two years ago.
The young hitman will certainly have a lot to prove at Sunderland this year if he hopes to push for a place back with Liverpool or at a top Serie A side, and with the Black Cats currently fighting for survival at the wrong end of the Premier League, supporters will be just as hopeful that he hits top form.
But Borini's agent insists that Rodgers still thinks highly of the forward and will utilise him next season.
"At the end of the season Borini will go back to Liverpool, where he is one of Brendan Rodgers' favourites," Marco De Marchi said.
"He was his first purchase and he previously coached him at Chelsea and Swansea."