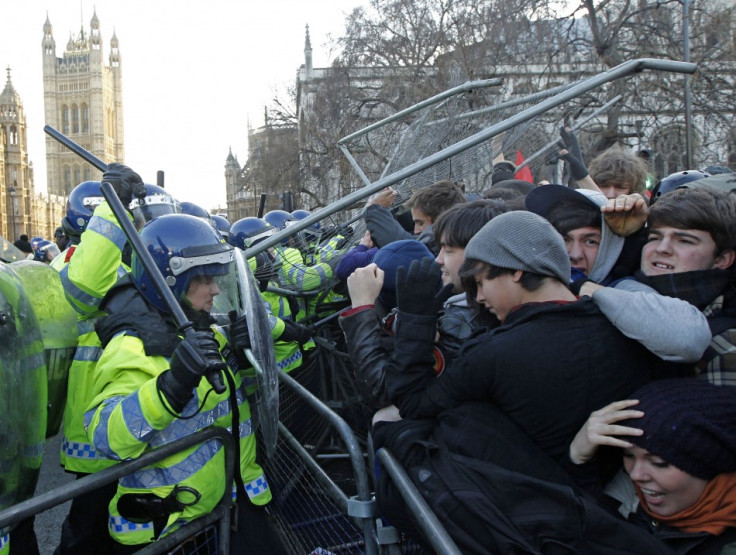 An organiser of the planned student demonstrations in London on Nov. 9 has slammed the Metropolitan Police's decision to authorise the use of rubber bullets.
The Metropolitan Police Commander in charge of the operation at the protest, Simon Pountain, has authorised the use of baton round guns if they deem the situation to have deteriorated enough to warrant them.
"Rubber bullets are lethal weapons that have never been used on mainland Britain," Michael Chessum, NUS Executive member and organiser of the National Campaign Against Fees and Cuts, told IBTimes UK.
"What the police did is cynical and political, aimed at scaring people off from demonstrating.
"It is irresponsible from a public order perspective. The last thing you should do is ramp up the violence and pressure."
Chessum added that he'd written to the Metropolitan Police and "warned them, on record, that schoolchildren and disabled people will be at the demo, so if they use collective punishment, such as kettling, then they may well be hurting those people."
According to a blog post from the N9 Anarchist Bloc, a group of London-based anarchists: "For us the smashing of Millbank was not the beginning but just the realisation of our historical subjectivity.
"At lunchtime students will mobilise with a determination equal to the magnificent example set by of our brothers and sisters across the world.
"Brothers and sisters. This is a call. This is yours. This is it."
They refer to the "global sea of rage" and that "the next crash of the waves will be in The City of London on Nov. 9".
Police are trying to avoid a situation similar to March 2011 and November 2010, the past two large-scale student demonstrations in London, where pockets of violence erupted across central London.
Windows were smashed and fires were lit by small groups of people who had attended the protests.
"When we talk about violence, the most important thing is to talk about police violence and police provocation," insists Chessum.
"I don't think broken glass is comparable to broken skulls."
In one of the clashes with police at a past demonstration, a student was hit on the head with a baton by a riot officer, leaving him in need of brain surgery.
Alfie Meadows, the 21-year-old philosophy student from Middlesex University struck on his head, is alleged to have used a metal barrier as a weapon against police.
Chessum said that organisers had worked with police on a route for the march and will be providing their own stewards to try and help the protest flow smoothly.
However he asserts that "he will look to the police to dampen down their violence".
"There are a range of tactics available if there is criminality and violence associated with the event. One of these is the authority to deploy baton rounds in extreme circumstances," said a statement from the Metropolitan Police.
"These are carried by a small number of trained officers and are not held and used by those officers policing the route on Wednesday.
"To give context to their use, the MPS had authority to use baton rounds during the disorder this summer but did not do so."
They have also said that any children missing school to attend the demonstrations will be subject to truancy laws and that "the police and education authorities may take appropriate action".
A "containment officer" solely responsible for any kettles by the Metropolitan Police will also be at the demonstration.
Kettling is a controversial tactic used by the police whereby they supposedly try to control or diffuse crowds of people by containing groups of people in one area, slowly releasing people one at a time.
Students will be protesting against education cuts and the marketisation of Britain's higher education system.