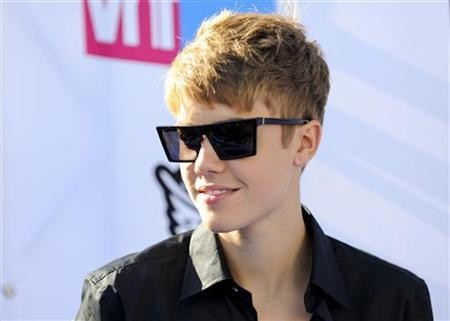 Justin Bieber's world tour has been hit by another scandal after Swedish police found drugs and a stun gun on board his tour bus.
The teen pop sensation's empty bus, which was parked under the Globen concert venue in Stockholm, was raided after a police officer on crowd duty smelled marijuana.
A police spokesman confirmed that the bus had carried 10-15 people to the concert venue, where Bieber was performing, before the drug squad searched the vehicle.
"The police went on to the bus and searched it and found a small amount of narcotics," police spokesman Kjell Lindgren said.
"We don't know who had the drugs or who smoked them, so it will be hard to link them with any individual."
No arrests have been made.
The 19-year-old star is on the European leg of his Believe Tour. He is due to perform in Finland on Friday (26 April).
Bieber's drug bust comes as concerns that he could be spiralling out of control continue to mount.
In March the Baby hitmaker was caught on camera threatening to beat up a photographer as he left his central London hotel.
In January he made headlines when pictures of him smoking marijuana with a friend during a party in Newport Beach surfaced online.