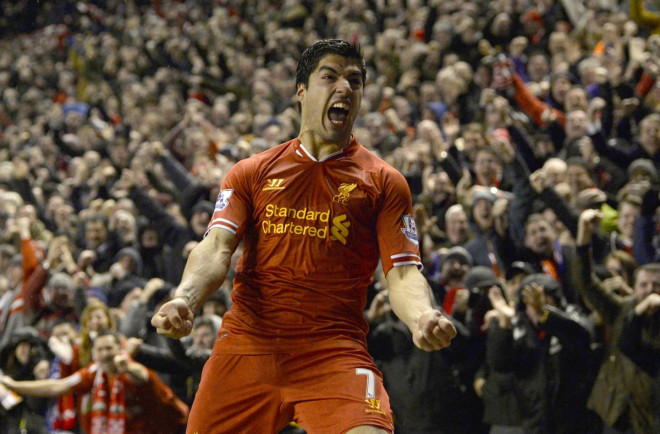 Luis Suarez has revealed that he dreams of playing in the Champions League with Liverpool next season.
The Reds currently sit fourth in the Premier League table with 56 points from 27 matches and have steered six points clear of fifth-placed Tottenham Hotspur. The Uruguayan international is among the stellar players for Brendan Rodgers's side in the league this season having raced ahead as the top scorer with 23 goals to his name.
The 27-year-old had publicly demanded a move away from the Merseyside club last summer. But having signed a contract extension in December last year, the striker is now motivated to help bring Champions League football back at Anfield.
"I dream about playing with Liverpool in the Champions League, yes. My teammates have told me it's something incredible, something truly unique, to play in that competition at Anfield. I'd love to do it. That said, there's a lot of the league left to play. We have to keep doing the things we're doing," Suarez told talkSPORT.
"We know all about those nights at Anfield. Everyone in the world knows about it, knows the club. All players appreciate the significance of the Champions League here, and that it's difficult to match Liverpool on that stage."
Suarez's time in England has been marred by controversies. However, things have taken a favourable turn for the striker this campaign leading the club during the absence of Steven Gerrard and Daniel Agger.
Last month the striker had revealed about Gerrard's influence in convincing him to stay at Anfield. The former Ajax player urges onlookers to judge him as the man he is on the football field and insists he has put in a lot of efforts and learned a lot from his teammates.
"Everyone has his culture, his way of living, and you're not going to be able to change that. What I would love, something I've always said, is that they judge me as a player on the pitch. By what I do on the pitch," the Uruguayan explained.
"There are players that have been at the club for a long time who you look up to, try and learn from. But professionalism, experience - you have to learn that yourself. You have to learn to be confident in yourself, know that you still lack things and you have to work hard," he concluded.