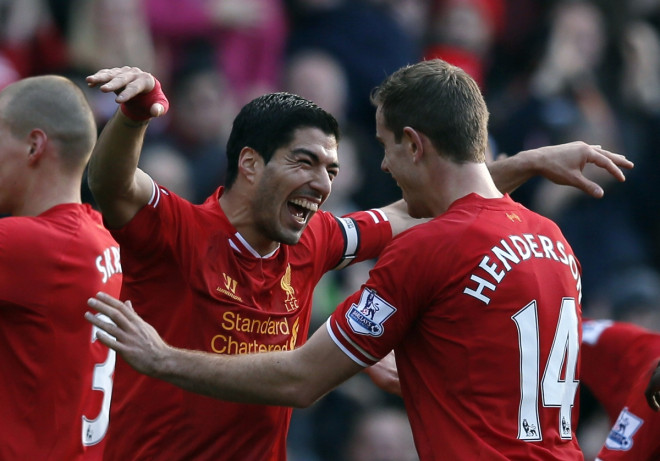 Luis Suarez has revealed that Steven Gerrard played a major part in him staying with Liverpool last summer.
The Uruguayan had made up his mind to leave Merseyside in order to join Arsenal in their quest for league glory. The Gunners had made him their prime target and Arsene Wenger made an audacious bid of £40m plus £1 to land the free scoring striker in the summer.
However, the Liverpool management stuck to their task and refused to let the Uruguayan leave for north London, a decision which has been vindicated by the Uruguay international's performance this season.
Suarez had issued a statement, wanting to leave, but Liverpool handed the situation very well and the player has now signed an extension on his current contract which has made him the highest paid player at the club.
Liverpool captain Gerrard, who has always been a major admirer of the South American striker was being believed to have played a major part in his decision, something which the player has admitted to, with 11 games to go till the end of the season.
"He didn't talk about me, or through me, in the press, but in person. In those moments I forgot that he was 'world football great Gerrard', a Liverpool legend, but as a humble person who spoke to me with all his heart for hours. He said I was the best forward he'd ever played with, which given the amazing strikers that he's played with at Liverpool, was amazing for me to hear. I'll never forget that," Suarez said.
Gerrard, who does not have a league medal to adorn his cabinet, is faced with his best chance to lift the title with the Reds currently four point behind Chelsea in the race for the league title.
Suarez, who was handed the captaincy in Gerrard's absence, will be a key figure if Liverpool have to lift the trophy this time around.
The Uruguayan revealed that he was humbled by the manager's gesture to hand him the arm band and that it was a show of trust from the club and the fans after a series of transgressions from his part.
"It was weird – strange. I'd never imagined myself as Liverpool skipper. After everything that had happened with me, to retain the support of the club, the coach and my team-mates showed me they were happy to forget and forgive," he concluded.