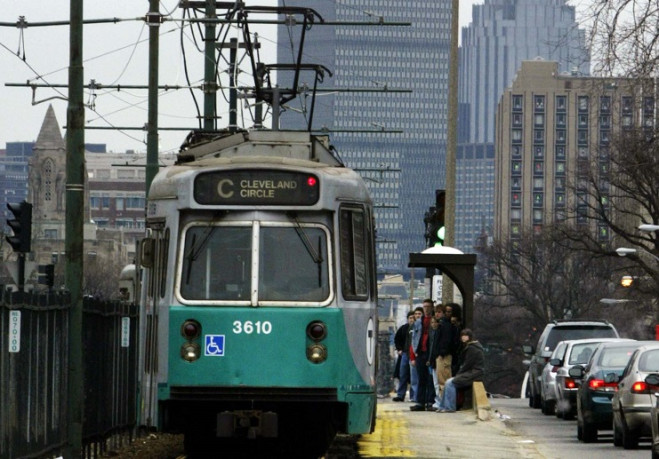 A man who took photographs up the skirts of women riding the Boston subway using his mobile phone did not violate state law, Massachusetts' highest court has ruled.
The Supreme Judicial Court overruled a lower court that had upheld charges against Michael Robertson because the women were not nude or partially nude.
Justice Margot Botsford, of the state Supreme Judicial Court, wrote: "A female passenger on a MBTA [Massachusetts Bay Transportation Authority] trolley who is wearing a skirt, dress, or the like covering these parts of her body is not a person who is 'partially nude,' no matter what is or is not underneath the skirt by way of underwear or other clothing."
Robertson was arrested in August 2010 by transit police, who staged a "decoy operation" to ensnare the accused after several reports that he was using his mobile phone to take photos and videos up women's skirts and dresses.
The ruling has prompted Beacon Hill lawmakers to pledge to update state law, to adequately protect clothed women from "Peeping Toms" in public areas, and reflect technological advancements such as mobile phone cameras. It is illegal to be photographed in dressing rooms and bathrooms when nude and partially nude.
The court said state law "does not apply to photographing (or videotaping or electronically surveilling) persons who are fully clothed and, in particular, does not reach the type of upskirting that the defendant is charged with attempting to accomplish on the MBTA."
Suffolk County prosecutors said their interpretation of the state's Peeping Tom law was that "upskirt" photos are illegal. Dan Conley, District Attorney, said prosecutors are hoping state lawmakers will alter the way the statute is written by the end of this legislative session.
He said: "What we have is not that the Supreme Judicial Court is saying this is ok," Conley said. "The statutory language just didn't quite fit the conduct."
Conley added: "Every person, male or female, has a right to privacy beneath his or her own clothing. If the statute as written doesn't protect that privacy, then I'm urging the Legislature to act rapidly and adjust it so it does."
Therese Murray, Senate President, said: "We have fought too hard and too long for women's rights to take the step backward. I am in disbelief that the court would come to this kind of decision and outraged at what it means for women's privacy and public safety."
Gina Scaramella, executive director of the Boston Area Rape Crisis Center, stated the law needs to be updated to reflect modern technology. She said such photographs are a serious invasion of privacy."
She said: "It really is a form of sexual harassment. It's a violation for the person who is unknowingly getting their body photographed. People wear clothing for a reason and having someone violate that privacy is a real problem."