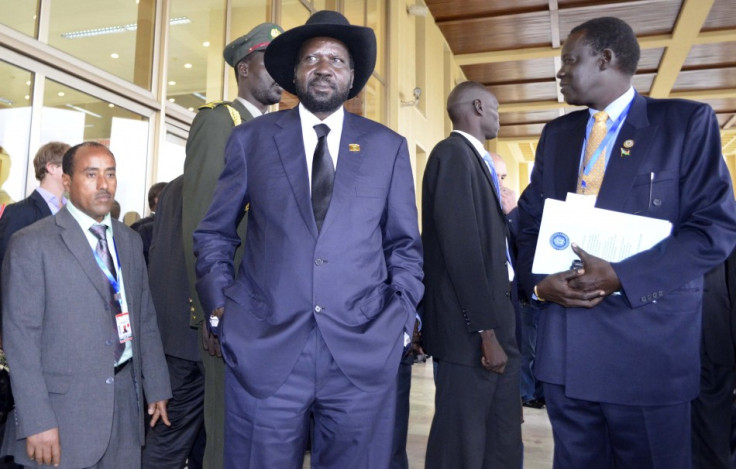 The presidents of the Sudan and South Sudan met for the first time on the sidelines of the African Union summit in Addis Ababa, the capital of Ethiopia, on Saturday.
The two leaders, Omar al-Bashir of Sudan and Salva Kiir of South Sudan, sat down for a one-on-one meeting, though the details of their meeting were not conveyed to the media. However, the two shook hands publicly at the end of the meeting.
"They are talking about peace," Bloomberg quoted Pagan Amum, South Sudan's chief negotiator in the peace talks, as saying.
South Sudan became independent about a year ago and numerous issues such as disagreements over border issues and oilfields remain unresolved. Other contentious issues include transport payments and division of the national debt.
The two leaders told the African heads that they were committed to resolving the disputes before the three-month deadline of 2 August set by the United Nations.
"The two presidents reconfirmed they are ready to comply with the African Union's Peace and Security Council road map and security council resolution," Bloomberg quoted Haile Menkerios, UN Secretary-General Ban Ki-Moon's special envoy, as saying.
"I would hope to believe that the two, consistent with what they've declared, will meet their commitments," he added.
UN-imposed sanctions are expected to take effect if the countries fail to settle the disputes.
The African Union mediated several talks between the neighbouring countries but failed to bring peace to the region or resolve the disputes.
In April, the two sides were on the brink of a war after the collapse of the talks. Sudan's fighter jets raided South Sudan and the latter's military occupied the contested border region of Heglig in retaliation.
Later, the South Sudan army withdrew from the area, which accounts for half of Sudan's total oil production.