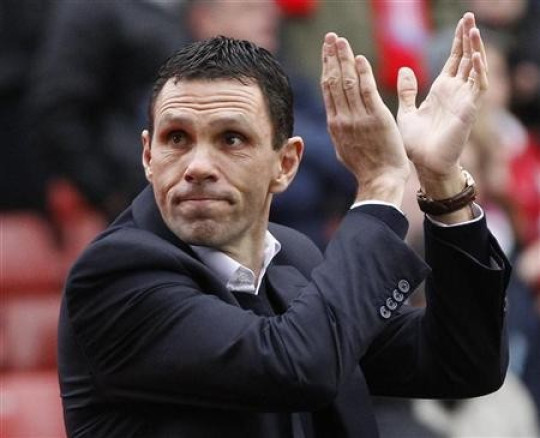 Sunderland manager Gus Poyet has confirmed Billy Jones and Jack Rodwell will miss the Premier League game at Manchester United on 28 February, while Italian star Emanuele Giaccherini is unlikely to feature again this season after undergoing surgery.
The Black Cats are 16th in the league, just three points above the relegation zone, with their last game a 0-0 draw at home against West Bromwich Albion on 21 February.
But the Uruguayan manager has claimed the game against Louis van Gaal's side has come too soon for Rodwell and Jones, even though the duo returned to training after respective ankle and calf injuries.
The former Everton and Manchester City midfielder is yet to play since the FA Cup replay with Fulham earlier in February, while Jones missed the West Brom game.
"We are not going to risk Billy. We're going to wait until Tuesday, and Jack the same," the manager confirmed.
"But the rest of the squad is there. We're in good shape. Now it's up to us to perform on Saturday at 3pm. I like to plan a little bit and train a few things, and when you have most of the squad that you have for the weekend, you can really do things in a different way.
"Last week, three or four players who played at the weekend didn't train until the Friday. This week has been much better."
Meanwhile, Giaccherini has been ruled out for 12 weeks after undergoing a surgery following a setback in the ankle injury he aggravated up during the FA Cup victory at Fulham.
But when asked if he thought Giaccherini will stay, Poyet said: "Yes for many reasons. I thought he was ready this year and I'm disappointed that we lost him. We wish him well."
Meanwhile, Poyet hailed United, claiming Van Gaal's side are better than people think. He said: "I think people are being a little bit harsh on Man United at the moment.
"They are not as bad as people think because they are in a good position and if they get into the top four there's a few that are going to have to recognise that they've done better than what people expected."