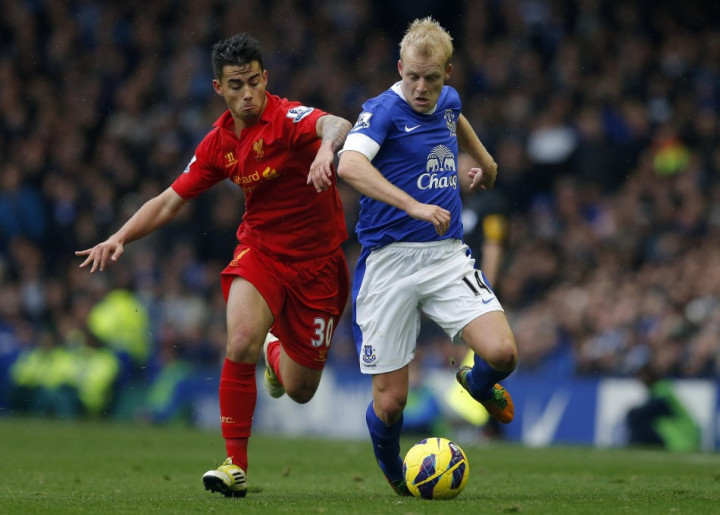 Liverpool youngster Suso has told IBTimes UK that Daniel Sturridge has what it takes to fill the gap left by Luis Suarez at Anfield while hailing the new summer additions made by Brendan Rodgers.
The Merseyside club have signed nine new players including Mario Balotelli but there are still some doubts whether the team will retain their efficiency up front without Luis Suarez, who scored 31 goals last season.
However Suso, who has returned to Liverpool after a successful loan season at Almeria, claimed during an interview with IBTimes UK that the new squad is much better than last campaign.
"We know that Luis Suarez's absence is important. You always are going to miss a player who makes as many goals as him. But Sturridge was the second top scorer last season and he is still here. We don't have to think of those who left. We have Sturridge, Lambert and Balotelli. I think the team is now much better than last year," he said.
"Suarez was the leader last year and now, without him, I think the responsibilities are shared. But I think if Sturridge focuses he can be a major player. He can be our leader.
"Sterling is still very young. It would be a mistake to give him so much responsibility. He can be crucial in one game but the one to make the difference is Sturridge."
And when questioned about the target for the new campaign, he said: "We can win the Premier League. Last year we were close and the squad is now much better. The team have been built to win something.
"Manchester City, Chelsea, United and Tottenham will be there too. Maybe City are the main favourites. Every season they spend a lot and I think they can now battle for all competitions."
Suso also reveals he has been impressed by new centre-back Dejan Lovren while also has big hopes for Balotelli.
"The signings have complemented the team. I think it was necessary to build a large squad to cope with all the competitions. The one that has impressed me the most is Lovren. He shape the game from the back, uses both legs and is good with the head.
"Balotelli has played already at Manchester City and at similar clubs. I do not think he will have any difficult at all to adapt. He is training good. We have a dressing room with very experienced people and we have received him as someone else. Hopefully he will give us a plus."
Liverpool visit Tottenham on Sunday in a crucial game following their 3-1 defeat against Manchester City on Monday.
"The game against Tottenham is going to be useful to know where we can be in the Premier League. Tottenham will perhaps be fighting with us until the end. I would not say it is a test just because the League has just started but it is an important game," said Suso.