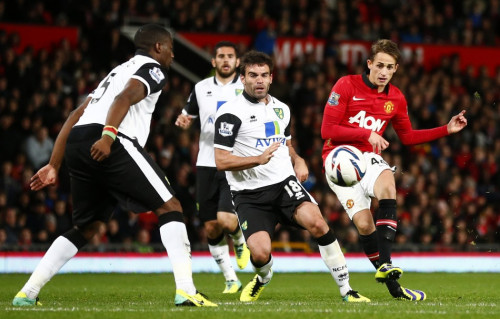 Swansea manager Michael Laudrup believes it is too early to claim Manchester United midfielder Adnan Januzaj is a world class talent.
The 18-year-old played a crucial role in David Moyes' side 2-0 win at Old Trafford over the Welsh club in the last league fixture. The Belgium-born midfielder played a key role in the build up to both the goals scored by the Premier League champions against Swansea.
The former Everton manager heaped praise on the youngster's performance during Swansea and has tipped Januzaj to become one of the best players in the world in future. Laudrup has issued a warning to United's new star and has urged him not to get carried away by the recent praise he received for his performance.
Januzaj signed a new five-year deal with the English champions earlier this season and has been a regular inclusion under Moyes this season. He has featured in 15 league games, scoring three goals and managing two assists in the process.
"I think it's too early to say [how good Januzaj can be]. It depends on what level you mean. There are very good players, great players, top, top players and world-class players. Ask me again in three years," Laudrup told the Mirror.
"At 18, 19 or 20, you're still a boy. It's very important you're at the right club with the right people around you – family, friends, who advises you – ­everything like that is important when you're young."
"Otherwise you sometime see players who have 10 or 15 games at top level, everyone tells them they're so great, they believe it and think they're already in the top three in the world. If everyone tells you you're the best maybe sometimes, especially when you're so young, you believe it."
"Cristiano Ronaldo is the prototype of a top, top ­professional. Apart from all his qualities, he plays all the games and wants to win every time."
"He's a good player, has a lot of talent at a young age and is already at this level at this club. It's very difficult to get through, first of all, to this level and then at a club like Manchester United."
"But I hope he's the kind of player who knows he will have to develop and move on, not think that because you've played 10 games in the Premier League you're already at the top," Swansea manager concluded.