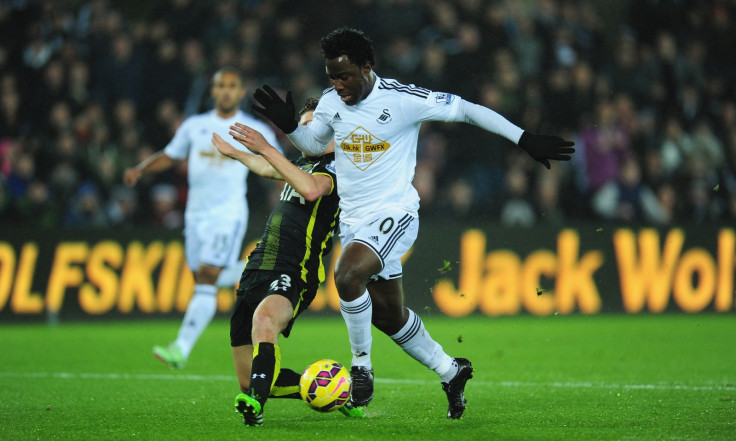 Liverpool and Tottenham Hotspur have been given a massive boost in signing Wilfried Bony after Swansea City chairman Huw Jenkins admitted that the striker could leave the club in January.
The 26-year-old was the top scorer in the Premier League in 2014 and his form has been attracting interest from the top clubs in England. The Merseyside club and the north London side are set for a battle in acquiring the services of the talented striker.
In addition to this, the Daily Mail reports Manchester City are also in the frame in signing Bony during the winter transfer window. The Ivory Coast international is valued around £25m and Jenkins admitted that Swansea have not received any bid from potential suitors.
"As things stand we have not had any contact from anyone with respect to Wilfried. It's just speculation linked to a player who is the top scorer in 2014 in the Premier League – which is perfectly natural," Jenkins said, as quoted by the Guardian.
"First and foremost I will consider everything that arises at the time but as of yet we haven't got anything to consider. Players move around – that's a fact of life."
"The one thing I've learned over time is never say never in football but officially at the moment we haven't had any contact from Manchester City or anyone else about Wilfried," the Swansea chairman concluded.
Meanwhile, Swansea midfielder Onjo Shelvey has been handed a four-match ban by the Football Association for the clash with Emre Can during the Welsh club's 4-1 defeat at the hands of Liverpool.
"Swansea City has reluctantly accepted the charge issued by The Football Association against Jonjo Shelvey for violent conduct following an incident in Monday night's Barclays Premier League defeat at Liverpool," a statement read on Swansea's official website.
The Football Association said the incident with Liverpool's Emre Can, which happened in front of the referee, "was not seen by the match officials but caught on video".
"While the club supports Shelvey's statement that the incident was unintentional, it does not believe the outcome of an appeal would prove positive for the club or player."
"Shelvey will now serve the customary three-match ban, plus an additional game for his second red card of the season. The ban starts immediately and the midfielder will miss tomorrow's fixture at QPR," it added.