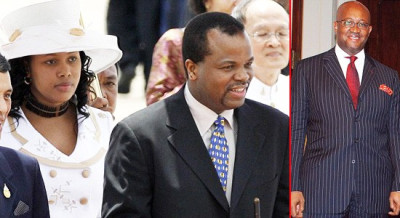 The King of Swaziland has thrown his 12th wife out of his royal palace following claims she had an affair with his close friend.
The monarch reportedly sent Nothando Dube, 23, packing last week, after she claimed that she has been held prisoner in the palace for over a year since her alleged tryst with the King's friend and the country's former Justice Secretary, Ndumiso Mamba in August 2010.
According to the South Africa's Sunday Times, the dispute began last year when reports surfaced that Dube, the 12th out of the King's 14 wives and mother to three of his children was found in bed with Ndumiso.
The scandal finally escalated into a violent altercation last week when the queen, who was taking one of her injured children to the hospital, was physically prevented from leaving the secluded palace by a security guard, later attacked the guard with pepper spray.
She told the newspaper: 'He threatened to hit me, saying I am not going anywhere with my child, who was bleeding from a deep wound.
'I had to protect myself so I sprayed him in the eyes,' she said
The Queen was finally evicted from the royal household and forced to leave her children behind after the southern African state's Queen Mother, ruled that she had 'disrespected' the guard.
Following her eviction the Queen told the paper: 'I couldn't even take all my stuff, because they just said 'you have to pack and leave now'.
The King's decision to separate her from her children has been condemned by human rights campaigners who have branded the act ' inhumane'.
Swaziland Solidarity Network spokesman Lucky Lukhele said: 'The ill-treatment that Mrs Dube has endured and the subsequent separation from her children is a very inhumane act.'
King Mswati, Africa's last remaining absolute monarch, was said to be furious when pictures emerged of the minister hiding in the base of the royal bed and promptly sacked Mr Mamba from the cabinet and placed the queen under house arrest.
Dube, who has fiercely denied the infidelity allegations, claims that she had been prevented from seeing her husband as punishment for the betrayal.
Last week's eviction is reportedly the third time a Swazi queen has been forced to leave the royal household since 2004.
Let's have a look at other royals who have reported cheated on their spouses...