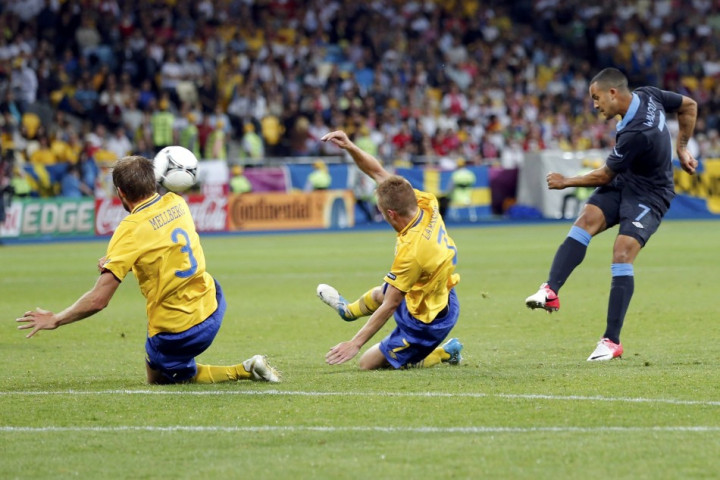 22:02: England require just a draw against Ukraine in their final group game to make the quarter-finals, and to top the group, need to better France's result against Sweden, who become the second side to exit the tournament after successive defeats in Group D.
I hope you've enjoyed IBTimes UK's live coverage of England's win over Sweden. We will be back to follow England's fortunes against Ukraine on Tuesday. Join us then.
21:58: England rarely do things the hard way, and in securing their first competitive win over Sweden, they have given themselves an excellent chance of reaching the last eight, which with an hour gone looked a distant dream.
In coming from behind, Hodgson's side showed an alternative side to themselves. When the solid approach failed, as Olof Mellberg inspired a Swedish come back, Roy Hodgson's side proved the have a plan b.
Full-time: Sweden 2-3 England
90 mins: Four added minutes in Kiev. Sweden are joining Republic of Ireland in exiting the tournament if they can't level. England one step towards to last eight if they can hang on. Gerrard should put the game to bed, as Walcott runs clear, but Isaksson stands firm.
89 mins: Danny Welbeck is replaced by Alex Oxlade-Chamberlain as England look to run down the clock in Kiev.
87 mins: Joleon Lescott gives away a free-kick, 35 yards from England's goal. Kallstrom is over it again, but Lescott is there to head clear. Sweden eventually win a corner but Hart punches the ball away.
84 mins: Theo Walcott picks up a calf strain but comes back on for England after treatment. Sweden dominating possession now as England's defence sits back dangerously. Six minutes remaining.
81 mins: Christian Wilhelmsson and Markus Rosenberg come on for Sweden, whose European Championship status is hanging by a thread. England almost put the game out of sight, as Parker smashes over.
78 mins: England have Joe Hart to thank at one end, saving brilliantly from Ibrahimovic's long range effort, before hitting the front for the second time in the evening. Walcott runs at the Swedish defence, and crosses for Danny Welbeck, who flicks the ball audaciously past Isaksson, who is again helpless.
Goal: Sweden 2-3 England (Danny Welbeck)
74 mins: Ashley Young wins and takes his own free-kick, but curls over the bar. At the other end, Sweden get more joy from wide, as Olsson gets through, past Johnson, and cuts the ball back for Kallstrom who smashes over from 12 yards. Could have sealed it for Sweden.
69 mins: The game is really stretched now. Both teams know a win is absolutely necessary to prevent their Euro 2012 hopes fizzling out in Kiev. Andy Carroll smashes over when well placed, after Ibrahimovic almost dances his way through.
64 mins: We have a game on our hands now. Sweden clear England's corner, after Isaksson's heroics, but the ball falls to Theo Walcott, who batters the ball towards goal, only for it to fly into the roof of the net beyond a bemused Isaksson. A lifeline for England.
Goal: Sweden 2-2 England (Theo Walcott)
63 mins: As is often the way when England encounter problems, their use of the ball has been poor. Glen Johnson, who has been rampaging forward all evening, crosses in for John Terry, whose header towards goal is somehow saved by Isaksson.
59 mins: If England were unfortunate to concede early in the second half, then they contributed to their own downfall for Sweden's second. Seb Larsson swings in the free-kick, and Olof Mellberg, unchallenged, nods into the far corner. Theo Walcott replaces Milner.
Goal: Sweden 2-1 England (Olof Mellberg)
58 mins: James Milner is booked for a slide tackle on Olsson, who was baring down on England's defence. Chance to load the box for Sweden.
56 mins: Glen Johnson is almost caught out, allowing Elm to race in behind, but the Liverpool full-back recovers in time to deny the youngster a route to goal.
53 mins: While that is just the reply Sweden required after a lacklustre first-half performance, Roy Hodgson will be absolutely furious with England losing their lead within four minutes of the restart. Gerrard tries to make amends in England's first attack since conceding, but is denied by a stunning block.
49 mins: Andy Carroll gives away a free-kick 28 yards from England's goal. Ibrahmovic's initially effort hits the England wall, but his scuffed follow-up shot finds it's way through to Olof Mellberg, who tucks beyond Joe Hart, despite the best efforts of Glen Johnson on the line.
Goal: Sweden 1-1 England (Olof Mellberg)
46 mins: No changes at the break for either side. England shooting towards their own fans in the second period.
21:03: With their future in this competition in jeopardy, Sweden might be looking at changes at the break, with Chrisitian Wilhelmsson perhaps the best attacking option available to Erik Hamren on the bench.
20:52: Roy Hodgson's one change from the draw with France has been justified, as Andy Carroll, on his major finals debut for England, cracks in a 24th minute header. England have dominated for much of the first half and Ashley Young and Danny Welbeck will be thinking what if after their respective efforts.
Sweden look vulnerable at the back, and bar Zlatan Ibrahimovic, have lacked ideas in the final third. The Milan striker appears to be the only source of inspiration for the Swedes. They'll need to improve on their first half showing if they're to retain their status in this competition.
Half-time: Sweden 0-1 England
44 mins: Danny Welbeck gets away for England, but he's all-alone in the attacking third, and eventually the threat diminishes. Ibrahimovic's cross at the other and is easily cut out by Hart.
40 mins: Sweden almost cut England open in the twilight of the first half. Ibrahimovic finds Elmander, who has been anonymous in the opening 45 minutes, whose back heel is crucially blocked out by Glen Johnson.
38 mins: Danny Welbeck and Andy Carroll have the right to be furious with Ashley Young. The 26-year-old breaks in behind but opts to shoot into the side netting instead of finding a teammate better placed in the centre. At the other end, Kim Kallstrom drives over the bar.
35 mins: Englad are almost in again. Gerrard exchanges passes with Ashley Cole and looks ready to let fly before Olsson makes an important inception.
33 mins: Or it was. Parker loses the ball high up the pitch and suddenly England are on the back foot. Ibrahimovic, orchestrating as always, runs at the back four, but can only manufacture a deflected shot, while is easily saved by Hart.
31 mins: While England are looking to break a trend in beating Sweden in a competitive game for the first time, they have continued one in scoring first. Hodgson will hope England don't sit back like they did against France, and hand the Swedes the initiative. Good news so far.
28 mins: We saw in Ukraine's win over the Swedes that defending from crosses was a big flaw in their back four, and it's taken England 24 minutes to expose that deficiency yet again.
24 mins: England hit the front just after mid-way through the first half. Steven Gerrard keeps the ball in play, and is given far too much space to get the cross in, and he finds the head of Andy Carroll, who drifts in-between Melberg and Olsson to nod beyond Isaksson.
Goal: Sweden 0-1 England (Andy Carroll)
20 mins: Sweden are snuffing out England attacks in their infancy, and they almost take advantage as they win the ball in the centre circle. The ball eventually falls to Ibramhimovic, who forces Hart into a simple save down at his right-hand post.
18 mins: England are almost caught short at the other end, with Ibrahimovic threatening to get in behind, and Glen Johnson and Joe Hart almost collide as the ball is shepherded to safety.
16 mins: Another opportunity for England and it comes from the head of Danny Welbeck. James Milner, who is notably further forward than he was against France, gets to the byline and finds Welbeck's head, but the ball drifts wide.
15 mins: Rasmus Elm's long throw shouldn't be something England are adverse to defending against, and it's John Terry who clears away the first hurl into their box.
12 mins: Scott Parker already appears to be the one keeping tabs on Ibrahimovic. Sweden mount their first meaningful attack of the game, with Larsson drilling the ball right down Hart's throat. Easily gathered by the Manchester City stopper.
7 mins: Isaksson is forced into his first save of the evening, and it might not be his last. England move it nicely on the right hand side, before Parker unleashes a bullet shot which is clawed away by the goalkeeper. Impressive start from Hodgson's men.
6 mins: England showing plenty of intent early on, with Ashley Cole finding himself in space on the left, but despite the run of James Milner, plays it to Danny Welbeck and the attack loses momentum on the edge of the Swedish box. Parker's free-kick towards Carroll is cut out.
5 mins: Ashley Young's long ball finds Danny Welbeck, who recycles the ball, which eventually comes to Scott Parker, whose shot/cross is too weak and ball goes through to Andreas Isaksson.
3 mins: Andy Carroll hasn't taken long to make his mark; two early fouls already from the Liverpool forward. Sweden with much of the ball early on.
20:00: Anthems are done and dusted. Big Swedish support in Kiev. And we're underway.
19:55: Both sides on their way in Kiev. Steven Gerrard and Zlatan Ibrahimovic leading their respective sides out.
19:51: Full time from the Dombass Arena and France go top of Group D after beating co-hosts Ukraine 2-0. Jeremy Menez and Yohan Cabaye got the goals, but the real drama occurred when the match had not got going, when lighting and rain saw the game halted with barely five minutes on the clock.
After England managed to stifle the French on Monday, seeing Laurent Blanc's side cruse past Ukraine provides Roy Hodgson with plenty of positives heading into their own meeting with Oleg Blokhin's side next Tuesday. Beating Sweden tonight is still imperative however.
Worth noting, Sweden will become the second side to exit the competition should they lose to England tonight. Big night for them also.
19:40: Sweden make three changes from their defeat to Ukraine on Monday, with Jonas Olsson, Anders Svensson and Johan Elmander replacing Mikael Lustig, Ola Toivonen and Markus Rosenberg. Expect Erik Hamren's side to line up in a 4-2-3-1 formation, with AC Milan's Zlatan Ibramhimovic playing behind Elmander in attack.
Roy Hodgson has made just one change from England's draw with France, with more attacking thrust in the form of Andy Carroll included at the expense of Alex Oxlade-Chamberlain. The inclusion of the 23-year-old means Ashley Young will move to the left-hand side of a four man midfield, with Carroll accompanying Danny Welbeck up front.
19:30:
Teams
Sweden: Isaaksson, Grandqvist, Mellberg, J Olsson, M Olsson, Larsson, Svensson, Kallstrom, Elm, Ibrahimovic, Elmander.
England: Hart, Johnson, Terry, Lescott, Cole, Milner, Gerrard (c), Parker, Young, Welbeck, Carroll
19:25: We were due to kick-off in Kiev at 19:45, however thunder, lighting and a deluge of rain, saw the match between Ukraine and France temporarily suspended for nearly an hour. Therefore, kick-off in Kiev has been delayed by 15 minutes, until 8pm UK time.
Meanwhile, in that other Group D encounter at the Donbass Arena, France are cruising upon the restart, with Jeremy Menez and Yohan Cabaye's goals gifting them a comfortable lead over co-hosts Ukraine. Les Bleus are heading top of the group as things stand with Ukraine looking likely to miss out on becoming the first side to qualify for the last-eight.
19:15: Welcome to live coverage of England's second European Championship group game against Sweden in Kiev.
After the omens surrounding England's record in opening games at European Championships, which culminated with a draw against France on Monday, those which accompany their record against Sweden in competitive fixtures points towards another evening of nerves as a supporter of The Three Lions.
In seven competitive games between the pair, going back going back 24 years, England have never beaten their Swedish counterparts, including in their only European Championship meeting in Solna in Euro 1992. Tomas Brolin, the forgettable Leeds United signing, was the hero that day.
It took Gareth Barry's header at Wembley in November last year to end a 43-year wait for a victory over Sweden for England. However, those with money on a stalemate will point to four draws in the duo's last six meetings for inspiration.