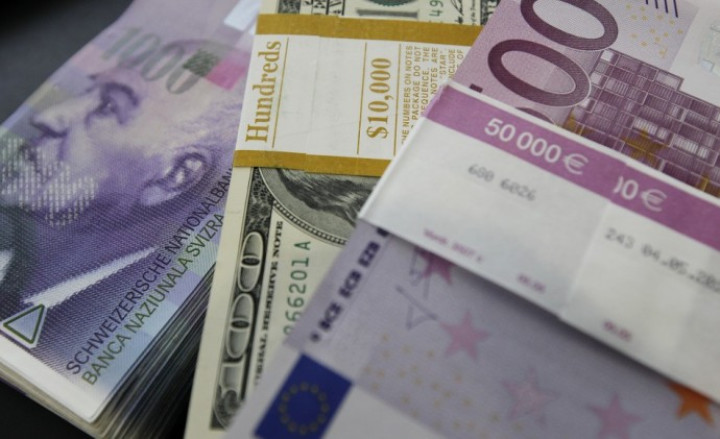 The Swiss franc showed some strength in the morning as Swiss consumer price inflation accelerated more than expected in August, but overall dollar strength held it near the one-year low touched after last week's ECB rate cut.
Consumer prices accelerated 0.1% from a year earlier in August from 0.0% in July. Analysts were expecting no change in the reading for August. Month-over-month, the rate improved to 0.0% after showing -0.4% in the previous month. The consensus was for -0.1%.
USD/CHF slipped to 0.9306 after the data from 0.9313 at Friday's close but rebounded to 0.9330 later as the greenback continued to rally across the board.
The USD index, the gauge that measures the greenback's strength against a basket of majors, rallied to a new 14-month high of 83.96, from Friday's close of 83.77.
The US jobs data on Friday had showed the non-farm payroll addition fell to 142,000 in August from 212,000 in July while the market consensus was for a rise to 225,000.
The speech of a senior Fed official over the weekend, however, did offset the impact of the data. The Philadelphia Fed President Charles Plosser said on Saturday that the overall labour market performance is still robust and the US should not delay rate hikes.
EUR/CHF had fell to 1.2054 from 1.2061 but then bounced back to 1.2072.
Against the British pound, however, the franc rallied as the UK currency was broadly down following a survey that showed more people are supporting Scottish independence.
GBP/CHF dropped to a three-month low of 1.5147, down 1.3% from the previous close.
The negative surprise in the July retail sales data made the reversal of the franc gains easier.
The sales growth fell 0.6% from a year earlier, after growing 3.4% in June. Analysts were expecting a reading of 2.6%.
GBP/CHF Technical Analysis
With the fall on Monday, the GBP/CHF cross managed to break below the 38.2% Fibonacci retracement of the March-July rally, a support line it failed to break less than a month ago.
The cross has its next level at the 50% mark at 1.4950 ahead of 1.4840, the 61.8% retracement. In between, 1.4904 may be a level to watch out for.
GBP/CHF will then aim 1.4765 and 1.4634 ahead of a retest of 1.4467, this year's low touched on 14 March.
On the higher side, the 1.5055 mark has now turned a resistance line, a break of which will open doors to 1.5200, the 23.6% retracement.
Further north, the cross is likely to face resistance at 1.5304, ahead of a retest of the July peak of 1.5435.