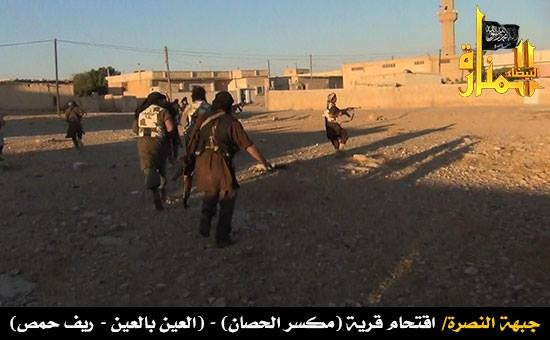 Islamist militants with the al-Qaida-linked Islamic State of Iraq and Syria (Isis) have publicly executed two men who were accused of being members of President Bashar al-Assad's Alawite sect in the northern city of Raqqa.
The two bound and blindfolded men were shot twice - once in the back and once in the back of the head - by masked men in the central square of Raqqa, which was taken by rebels in March, according to the Daily Star.
A large crowd gathered to watch the execution and cheered while gunmen fired automatic weapons in the air, according to the Raqqa Media Centre.
The British-based Syrian Observatory for Human Rights (SOHR) confirmed that the two were accused of being "regime infiltrators" and "Nusayri [Alawite] apostates who have raped our women".
The Alawite sect is a branch of Shia Islam that controls Syria through the Assad family.
A woman allegedly tried to stop the execution by accusing the rebels: "You are the apostates and we are all Syrians." IBTimes UK has been unable to verify the account.
The Isis executed three Alawite men, accused of being soldiers, in Raqqa in May.
However, it turned out that two of them were civilians - a doctor and a school teacher - from the al-Achrafiya village of northern Reef Homs.
Meanwhile, Al-Nusra front, which has been listed as a terrorist organisation by the United States, has claimed responsibility over a recent attack on the central Syrian villages of Maksar al-Hasan, Jab al-Jarrah and al-Massoudiyeh in Homs province.
The group killed 22 Maksar villagers, including several elderly people, according to the Syrian Observatory.
Al-Nusra said that the attack "resulted in the death of at least 30 Nusayris [Alawites]".
The militants also seized 10 Kalashnikovs and other weapons.
Video of the 14 May execution in Raqqa