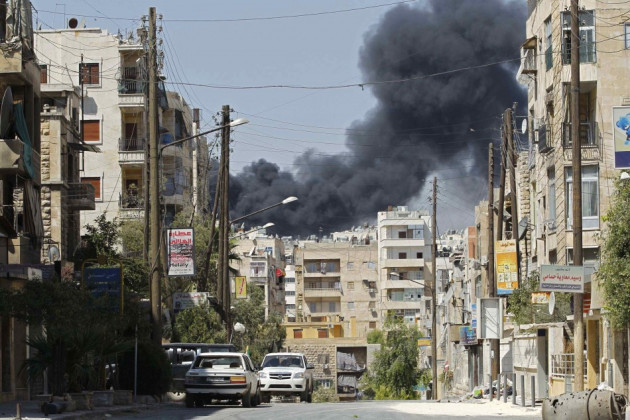 Aleppo, the largest city in Syria, has been left without drinking water after a main water pipeline was destroyed during heavy fighting between the rebels and government forces.
Nearly three million people are affected and are suffering from an acute shortage of drinking water, according to the UK-based opposition activist group, Syrian Observatory for Human Rights.
"A main water line was destroyed near the water department in Bustan al-Basha. This is very important because it provides drinking water to the whole city," Observatory director Rami Abdel Rahman told AFP.
"We cannot say how it was ruptured, but there were air strikes and clashes between the army and rebels in the area."
The Syrian activists blamed government forces and said the pipeline was damaged in a missile attack by a Syrian army warplane.
However, the government blamed "terrorists," a term used by the regime to describe the rebels, for the sabotage.
Aleppo's governor Mohammed Wahid Akkad told the state-run Sana news agency that water supplies to the neighbourhoods of Midan, Suleimaniyeh and Aziziyeh were cut off and that repair work is under way.
Videos posted online by the Local Coordination Committees (LCC), whose authenticity could not be independently confirmed, showed water gushing through one of Midan's streets, turning it into a small river.
Meanwhile, at least 100 people have reportedly been killed in fresh clashes in Damascus and Aleppo.
Both government forces and the rebels claimed to have captured areas controlled by the other side. While government forces have reportedly regained control of a barracks to the north-east of the city, the rebels claim to have seized the Hanano barracks, one of the largest army posts in the area, the BBC reported.
According to activists, at least 23,000 people have died in Syria since the civil war began.