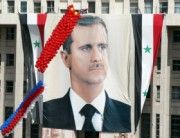 Syrian officials have rejected the new sanctions imposed on the country by the Arab League and continued to accuse foreign countries of a conspiracy.
Following a meeting at the weekend after President Bashar al Assad defied pressure to stop the crackdown on protesters, the Arab League announced it would ban Syrian officials from visiting Arab countries, freeze government assets and halt all transactions with the Syrian regime and the central bank.
The sanctions, announced by Qatari Prime Minister Hamad bin Jassim al-Thani, mark the toughest sanctions taken by the 22-member league to date.
''We hope that [the Syrian regime] puts an end to the massacres so that this resolution [authorising sanctions] is not put into force,'' said Sheikh Hamad, before adding that ''the signs are not positive''. He also called for ''an end to the massacres'', for the release of prisoners and the withdrawal of tanks from Syrian cities.
Bashar was quick to retaliate, telling university students who visited him at the People's Palace: ''You will see Arab brethren who are disparaging us today flock back to Damascus repentantly once the crisis ends."
In a swipe at Turkey, a former ally who has criticised the regime's crackdown and called on Bashar to step down, the president attacked Prime Minister Recep Tayyip Erdogan's Justice and Development Party (AKP).
''The dream of the Ottoman Empire remains vivid in some minds. Although they know it is only a pipe dream, they try to exploit political parties raising religious slogans to boost their influence in the Arab world, '' Bashar said.
His comments came as Turkish Foreign Minister Ahmet Davutoglu said his government would harmonise measures with those taken by the league, adding that, by disregarding the league's warnings, Syria had missed its "last chance".
Syrian Foreign Affairs Minister Walid Muallem said during a press conference that the Arab League's decision to suspend Syria wasa sign of a Western-inspired conspiracy and of silencing "Syria's voice".
He alsoplayed a graphic video of what he claimed were members of the security forces being tortured to death in Syria.
Mr Muallem appeared to confirm reports that fighters from Libya are helping armed insurgents in Syria, saying he has information that some Libyan fighters are in Turkey in order to infiltrate Syria.
Concerning the Arab League sanctions, he added that Syria had already withdrawn 95 percent of funds targeted by the league's sanctions.
He also announced that Article 8 of the constitution, which makes the Baath Party the country's official ruling party, would be removed and warned: "We gave diplomacy a final chance. From today, there is no diplomacy, you will see what we will do."
Mr Muallem's account of the crisis was similar to those being issued by SANA, the state's news agency, which reported that security forces had killed at least 12 gunmen in the city of Homs, where they found "a torture chamber."