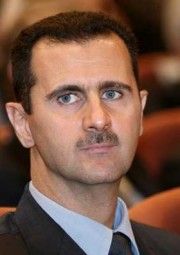 Arab leaders are believed to be seeking a haven for Syrian President Bashar al-Assad, allowing him to give up power in return for escaping justice for his regime's repression of democracy protesters that has killed 3,500.
While both the Arab League and Western diplomats seem to agree that Assad's departure is inevitable, the Syrian leader still stands defiant.
With the results of the Palestinian statehood bid at the U.N. set to be announced by the end of the month, with sources predicting a Palestinian defeat, and rumours of a possible Israeli or U.S. attack on Iran, hanging on to power could help Assad as international attention would shift to a new crisis..
Syrian authorities, who blame armed "terrorists" and Islamist militants for the bloodshed, agreed Nov. 2 to an Arab League plan that should have seen the military withdraw from cities, the release of political prisoners and the start of negotiations between the regime and the opposition. But the promises were ridiculed as the regime upped its offensive on protesters, killing more than 60 people last week.
In the midst of the crisis, and after being publicly humiliated by Assad's continual disregard of the agreement, Arab leaders have now offered him a refuge to encourage his departure, a U.S. official said.
"Almost all the Arab leaders, foreign ministers who I talk to say the same thing: Assad's rule is coming to an end. It is inevitable," Jeffrey Feltman, Assistant Secretary of State for Near Eastern Affairs, told a Senate panel.
"Some of these Arabs have even begun to offer Assad safe haven to encourage him to leave quickly," he added before saying he hoped Assad and his inner circle would "head for the exits voluntarily."
Assad could relocate to Saudi Arabia and join Tunisia's former president, Zine al-Abidine Ben Ali, or maybe Moussa Koussa, Muammar Gaddafi's former foreign minister, who could help him cope with the pressure of living in hiding in the five-stars hotels of Qatar.
The Syrian president might have once been highly regarded among Arab leaders, but many countries have publicly criticised him for attacking his own people.
Offering Assad a haven and justifying the initiative by saying it will precipitate his departure from the state and stop the bloodshed illustrate the failure of Arab leaders. With Assad ignoring demands to step down, they have now resorted to offer him a much more advantageous deal, which may see him escape a trial and prison.