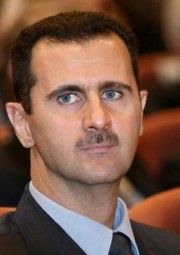 Syria's state-run media says the army test-fired missiles while the air force and ground troops conducted exercises "similar to a real battle," over the weekend in the latest sign of defiance of Damascus.
State TV reported the manoeuvres, conducted Sunday, aimed at testing "the capabilities and readiness of missile systems to respond to any possible aggression."
The exercises showed that the army is "ready to defend the nation and deter anyone who dares to endanger its security," the official news agency SANA quoted Defence Minister Dawoud Rajha as saying.
The news came as the Assad regime is under growing pressure from the international community after failing to stop its crackdown on protesters.
Damascus had also become more isolated after the Arab League suspended its membership and pressed ahead with new sanctions.
In October, hinting at possible foreign intervention, President Bashar al-Assad warned that the Middle East "will burn" in the event of Western interference.
The news is set to be received as yet another defiant move from the Syrian government and a warning against foreign intervention.
With Syria known to have surface-to-surface missiles capable of targeting its territory, Israel immediately commented on the move. The chairman of the Knesset's Foreign Affairs and Defence Committee, Shaul Mofaz, said in a radio interview: "The closer the Assad regime in Syria gets to death's door, the bigger the threat against Israel becomes."
"It can be reasonably assumed that in the twilight of his rule, Assad will try to deflect attention from the massacre of his own people by starting a conflict with Israel," Mofaz added.
Syria continues to send mixed messages as its Foreign Ministry spokesman Jihad al-Makdesi announced on Monday that the government had responded "positively" to the Arab League protocol.
The plan would see Assad stop the crackdown on protesters and allow observers into the country to monitor the situation.