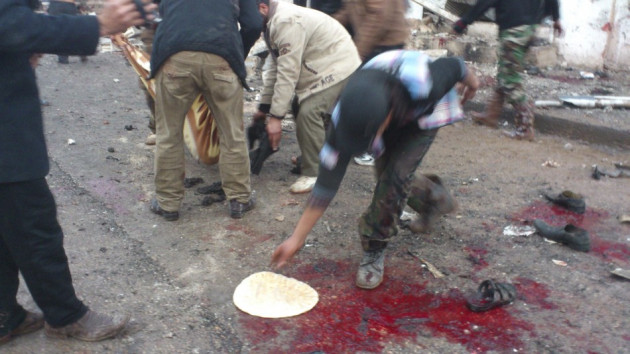 A deadly airstrike on a bakery in the war-torn Hama province of Syria has killed dozens of people and wounded several others, according to activists' reports.
The aerial attack was on the town of Halfaya, which was recently brought under the control of rebels fighting against President Bashar al-Assad. It is one of the deadliest attacks so far in the 21-month-long uprising.
Government forces are blaming "terrorists", a term the regime uses to describe the rebels, for the attack.
A number of graphic videos have been posted online by activists, showing the massive devastation caused by the attack. Bodies and body parts lie scattered while rescuers try to pull out victims from the rubble.
"There is no way to really know yet how many people were killed. When I got there, I could see piles of bodies all over the ground. We hadn't received flour in around three days so everyone was going to the bakery today, and lots of them were women and children. I still don't know yet if my relatives are among the dead," an activist named Samer al-Hamawi, living in the same town, told Reuters.
At least a thousand people are believed to have been waiting outside the bakery to buy bread, reflecting the acute food shortage the civil war has created.
According to activists' estimates, more than 90 people have already been killed in the attack while at least 50 are in a critical condition. The death toll is expected to rise sharply.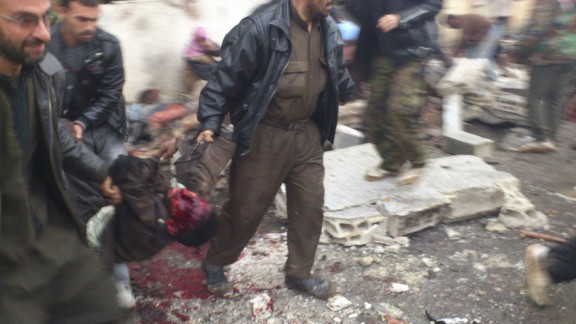 The attack comes in the wake of the rebels' advance in Hama province and the strong challenge they are posing to the Assad regime. A few days back, rebel forces beat back Syrian troops from the Halfaya area. The present attack mirrors past bombardments used by Assad forces in times of difficulty.
"These military efforts to try to topple the government, of getting rid of the president, of occupying the capital ... Forget about this. I have general advice to those political powers that reject dialogue: time is getting short. Hurry and move on to working on a poli
Free Syrian Army fighters and residents carry the bodies of people killed by what activists said were missiles fired by a Syrian Air Force fighter jet from forces loyal to Syria's President Bashar al-Assad at a bakery in Halfaya - Reuters
tical solution," Syrian Information Minister Umran Ahid al-Za'bi told a news conference in Damascus.
Meanwhile, UN and Arab League special envoy Lakhdar Brahimki has arrived in Syria to continue his peace mission. The veteran Algerian diplomat is likely to hold talks with Assad but experts say it is unlikely the discussions will bring lasting resolution.