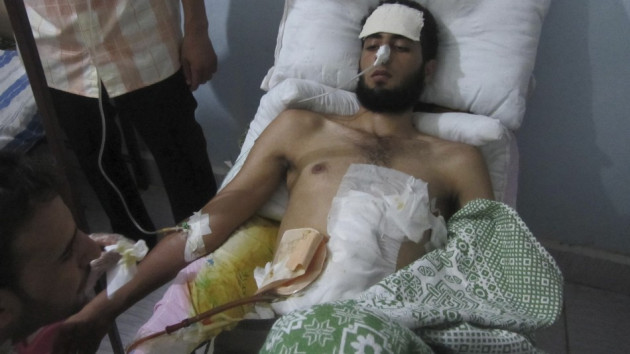 Forces loyal to President Bashar al-Assad are executing rebels across Syria, especially in Homs province, according to reports. Rebels say the regime's forces have resorted to the execution-style killing of young men.
The Shammas neighbourhood of Homs province was stormed by government forces while scores of young men were in a mosque. Assad's troops reportedly surrounded the mosque and attacked.
"The military began calling the residents from the mosques surrounding the Shammas neighbourhood, that all young men need to come down to the streets with their hands behind their heads," the opposition umbrella group Syrian National Council said.
Syrian forces have intensified their attacks on rebels in other cities, including the country's commercial capital Aleppo.
Images broadcast on state television show the widespread destruction of Aleppo neighbourhoods. Assad's officials also claim that the rebels have been chased out of the strategically important Salaheddin district. But fighting was reported in the capital Damascus.
Large-scale violence has also been reported on the Syria-Jordan border, the first clashes in the region since the 17-month-long uprising against Assad began.
"The Syrians fired into Jordan at 10:30pm in pursuit of refugees and the Jordanians responded. The fighting escalated and Jordanian armoured vehicles hit two Syrian border guard outposts. The fighting was intense for an hour and now it is intermittent," Abdallah, an opposition activist, told the Muslim News.
Thousands of Syrian refugees have been fleeing the conflict to Jordan. Riyad Hijab, the former prime minister who defected from the regime, also fled to Jordan.
Meanwhile, casualties are mounting with over 100 people killed over the weekend.
Amid the raging violence, the Arab League has postponed its scheduled emergency talks. Foreign ministers of Arab League countries had been due to convene in Jeddah, Saudi Arabia, on Sunday 12 August to discuss the Syrian conflict.
The conference was expected to appoint Kofi Annan's successor as special envoy to Syria. No new date for talks has been set and the Arab League's deputy secretary general Ahmed Ben Helli has not cited any reason for the postponement.