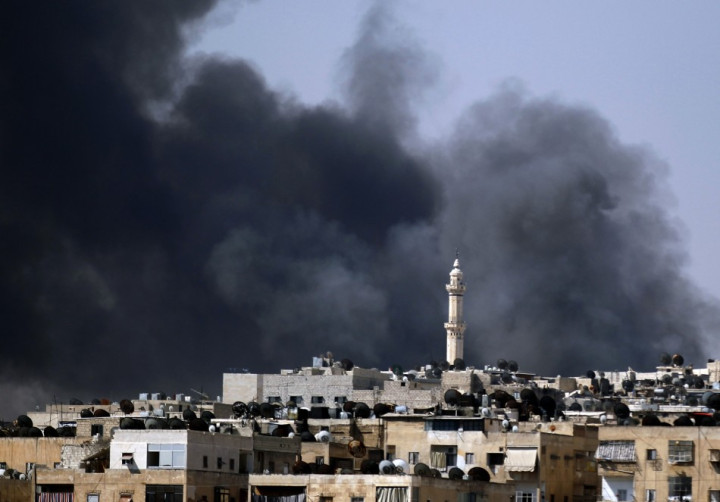 President Bashar al-Assad's forces have intensified their attack on the rebel stronghold Aleppo.
Helicopter gunships, planes and tanks are engaged in lethal pounding of opposition groups in the ongoing bloody battle which may even seal the fate of it.
"There is one helicopter and we're hearing two explosions every minute," a witness in Syria's largest city told Reuters.
Forces are calibrating their attack on Aleppo's important Salaheddine district. Several other districts have also been bombarded by the regime to crush the rebels. Scores of people have died in the attack.
Two large columns of troops were drafted for fighting in Aleppo from Latakia and the capital Damascus, said the Free Syrian Army (FSA).
The armed opposition groups were driven away by the security forces when they tried to capture areas in and around Salaheddine district.
The rebels said they were aware of Assad's imminent onslaught as the troops were preparing for this battle.
According to rebel reports, Aleppo is witnessing possibly the heaviest bombardment since the attack began on 20 July.
Assad's regime has indicated that there is much more to come. "The battle for Aleppo has not yet begun, and what is happening now is just the appetiser... the main course will come later," a senior official from Assad's regime told AFP.
Assad's state media reported dozens of "terrorists" (rebels) have been captured, injured or killed in the attack.
Sporadic clashes have been reported in northern Syrian cities in the last two weeks. Reports indicate more than 145 people were killed on 4 August across the country.
"Aleppo, one of the most ancient and storied cities in the world, was the epicentre of a vicious battle between the Syrian government and those seeking to replace it," UN Secretary-General Ban Ki-Moon told the UN General Assembly the other day.
In Damascus, government forces claimed that the rebels have lost their final footing as Tadamon region was also recaptured.