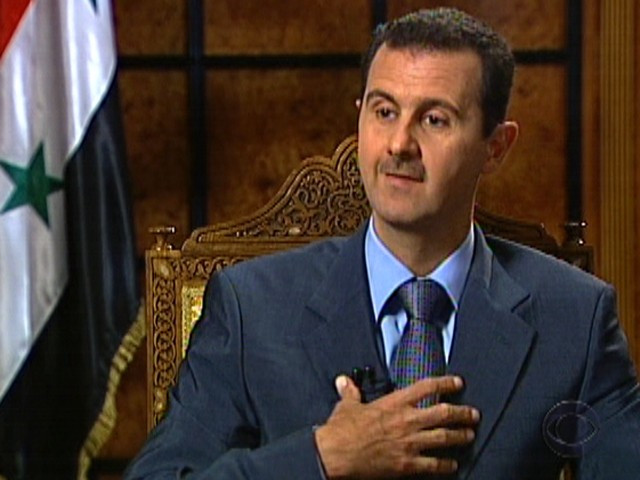 Syrian President Bashar Assad plans to make his third major speech since protests against his government began in mid-March, the state news agency SANA reported.
The speech would be about "current developments in Syria" and would take place at noon local time, the agency said late Sunday without elaborating any further.
Giving more information, Syria's ambassador to the US affirmed his government differentiated between the legitimate demands of protesters and those of armed gangs, and that Mr Assad would deal with "all these issues".
On the 30 of March, two weeks after protests started to spread, Mr Assad addressed the nation. At the time though, he seemed far from wanting to compromise as he called the violence a "conspiracy" fomented by foreign countries.
After another two weeks of protests, Mr Assad announced on 16 April that the emergency law in force in Syria since 1963 would be abolished, expressed his sadness at the many deaths, and called for national dialogue. Since then however, the government has neither implemented the reforms, nor stopped its targeting of the population.
The president's speech comes a day after opposition activists announced the creation of a body to lead the struggle against the regime.
"We announce the creation of a National Council to lead the Syrian revolution, comprising all communities and representatives of national political forces inside and outside Syria," spokesman Jamil Saib told reporters near the Turkish border, according to the AFP news agency.
The council urged people to "co-operate in all cities and provinces of Syria to achieve the legitimate goal of overthrowing the regime and bring it to justice", Mr Saib added.
Also on Sunday, activists revealed that at the weekend, in north-western Syria, government forces besieged several towns. Tanks and machine guns were sent in Saturday to stop anti-government rallies in Bdama near the Turkish border and army forces fired randomly at houses and besieged the town, injuring at least 20 people, opposition groups said.
The Syrian government appears to have launched an operation against government opponents and deserters in Idlib province, which have seen more than 10,500 people, including 5,300 children, flee to Turkey in the past 10 days.
However, human rights activists said they fear the besiegement of Bdama could cut off a route for Syrians seeking to flee into Turkey.
The Turkish government has allocated about 2.3 million dollars to care for the refugees living in four tent cities, but their situation remains very precarious and much more money will be needed in order to avoid a humanitarian crisis.
Assad's speech will also take place on the same day foreign ministers of the European Union are to debate a tightening of sanctions against his government.
A travel ban and asset freeze against 23 Syrians, including Assad, has been in place since May, but the EU is also considering expanding that list and halting business contacts with certain Syrian companies.
Talking about the situation in Syria, Foreign Secretary William Hague said on Monday that Syrian President Bashar al-Assad must implement reforms in his country or step aside.
Hague, on arrival at a meeting of EU chief diplomats in Luxembourg, said he hoped Turkey would use its influence on Damascus to tell the regime that "they are losing legitimacy, that Assad should reform or step aside."
However, while Britain, France, Germany and Portugal have distributed a UN resolution condemning the Syrian military crackdown on the opposition, Moscow has already confirmed it will stand against a resolution.
Speaking in an interview with the Financial Times Russian President Medvedev argued that March's UN Security Council vote on Libya had paved the way for a military operation.
"What I am not ready to support is a resolution (similar to the one) on Libya because it is my deep conviction that a good resolution has been turned into a piece of paper that is being used to provide cover for a meaningless military operation," he said.
"There will not be such a resolution. Russia will use its Security Council permanent member rights," he said, referring to Moscow's veto as one of the five permanent UN Security Council members.
"But other calls, declarations, including from the Security Council, towards Syria are possible."
Medvedev also added, "Right now I am not sure that any resolution is needed because a resolution may say one thing, but actions would be quite different. The resolution may say 'We condemn the use of force in Syria' and after that planes will take off into the air.
"We will be told, 'Well, it says there that we condemn so we condemned, (and) dispatched a certain amount of bombers there.' I don't want it. In any case, I don't want to have it on my conscience," he said.
It seems then that Assad largely benefits from the fact that the international community is divided over the legitimacy of the Libyan operation. The aerial bombardments campaign has proven ineffective and four months on, the situation has not evolved much as Gaddafi is still in power while the rebels suffer important cash, food and medicine shortages.
However, the Assad regime has been renowned for its brutal repression for years and human groups insist they have tangible proof the authorities use live ammunition on crowds of civilians, as well as torture.
It is clear that the people fleeing to Turkey are not armed gangs but scared civilians who decided to leave all their possessions behinds to escape the regime's brutality.
It is also important to remember why the protest started in the first place. In March, the Syrian security forces arrested a group of teenage boys who were accused of writing anti regime graffiti. After more than two weeks of imprisonment, the teenagers were returned to their parents. However during their time in jail, they had been beaten up and tortured.
The regime blames the unrest on armed gangs financed by foreign countries, but what does it have to say about the people now fleeing their country? And if the regime is so concerned about its population, how come it does not help with providing basic shelter and food to the refugees?
While the regime insists that more than 300 soldiers and police have been killed as a result of the protests, human rights groups have said more than 1,300 civilians have been killed and 10,000 detained since mid-March.
It is time for the Syrian authorities to realise that its relationship with its people is now beyond repair. Assad might stay in power and promise for more reforms, but no one in Syria will really believe in his good will.
Assad staying in power will do nothing for the people of Syria but, on the other hand, will provide a glimpse of hope to all dictators and repressive regimes, as he will illustrates that force and brutality can win over the most rebellious crowds. Will fight the opposition with even more repression be the final answer to the Arab spring?