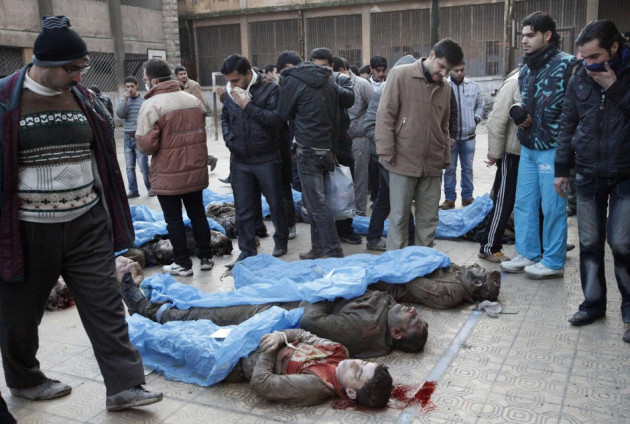 UN and Arab League special envoy Lakhdar Brahimi has expressed serious disappointment over the latest execution-style killings in the Syrian city of Aleppo.
The veteran Algerian diplomat was addressing a close-door meeting of the UN Security Council and has reportedly conceded "no progress" has been seen since his takeover.
"Unprecedented levels of horror have been reached. The tragedy does not have an end. The country is breaking up before everyone's eyes. Only the international community can help, and first and foremost the Security Council," said Brahimi, according to the diplomats present in the meeting.
The Security Council has been struggling to deal with the Syrian conflict for more than a year, during when, China and Russia have jointly vetoed three west-backed sanctions on the regime.
"The Syrian regime's legitimacy has been seriously, probably irreparably, damage," the diplomats reportedly quoted him as saying. Brahimi is said to have blamed both President Bashar al-Assad's regime and the armed opposition groups for committing serious crimes during the conflict.
"The region is being pushed into a situation that is extremely bad. That is why I believe the Security Council simply cannot continue to say: 'We are in disagreement, therefore let's wait for better times.' I think they have to grapple with this problem now," Brahimi said while speaking to the media after the meeting.
The continuing violence in Syria in the last 22 months has claimed more than 60,000 lives including the killings in Aleppo. In the recent massacre, some of the victims' hands were tied behind their backs and they were shot on their heads, in a typical execution style, prompting worldwide condemnation.
Not less than 65 bodies have been found on the bank of River Quweiq in Aleppo. Another report puts the casualties figure to 100. Most of the victims were in there 20s and 30s, according to the Britain-based Syrian Observatory of Human Rights.
The victims are believed to have been kidnapped few days back before the execution. Assad's forces blamed the rebels for the massacre. Assad's officials report that an al-Qaida-offshoot had abducted the victims before killing them. They have reportedly pledged to reveal more details.
"Until now we have recovered 68 bodies, some of them just teens. But there must be more than 100. There are still many in the water, and we are trying to recover them," a rebel chief in the region Captain Abu Sad told AlJazeera adding that the victims have been "executed by the regime".