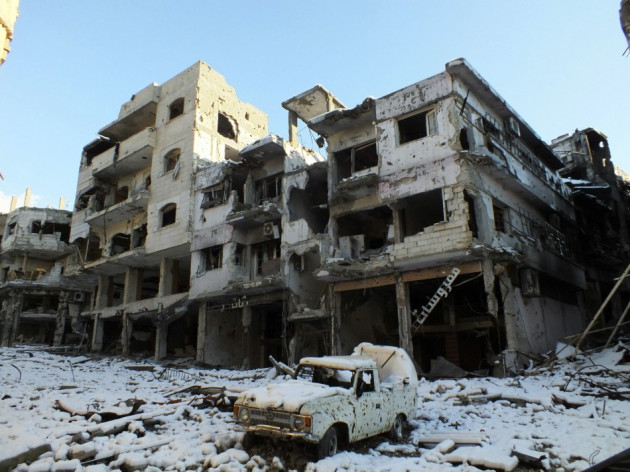 Forces loyal to President Bashar al-Assad have stormed a small farming village in central Syria and killed dozens of people, including women and children.
The attack on the hamlet of Haswiyeh, outside Homs, left at least 37 people dead, according to the Local Coordination Committee. Reports supported claims that the killings may have been sectarian in nature, as all the victims appeared to be Sunni Muslims.
The British-based Syrian Observatory for Human put the death toll at 106 people. "The observatory has the names of 14 members of one family, including three children, and information on other families who were killed, including one of 32 people," the monitoring group told Reuters.
"This needs to be investigated by the United Nations."
It said that some of the dead were "burnt inside their homes while other were killed with knives".
The area around Haswiyeh witnessed clashes between troops and rebels, who still control several neighbourhoods in Homs and other areas.
Homs, which is Syria's third largest city, is not far from Houla, the scene of the massacre of 108 people in May 2011.
US media reported, meanwhile, that the Obama administration had sent thousands of chemical protective suits to Jordan and Turkey in case Syrian stocks of lethal nerve agents were stolen.
Western governments preparing for the fall of Assad and Obama want the nerve agents out of Syria as quickly as possible, NBC reported.
Middle East allies of the US were being trained to use the chemical gear and detection equipment.
Senior US officials and New York-based watchdog Human Rights Watch (HRW) have rejected reports, however, that Syria used chemical weapons in an attack on rebels in Homs in December.
HRW confirmed it had received documents of human rights violations in the city but was unable to confirm that gas was used, said Lama Fakih, a researcher for Human Rights Watch based in Lebanon.
State Department spokeswoman Victoria Nuland said the report had "no credible evidence to corroborate or confirm chemical weapons".
Obama has said that the use of gas or other chemical weapons by Syria would mean Assad had crossed a red line that would trigger a US military response.