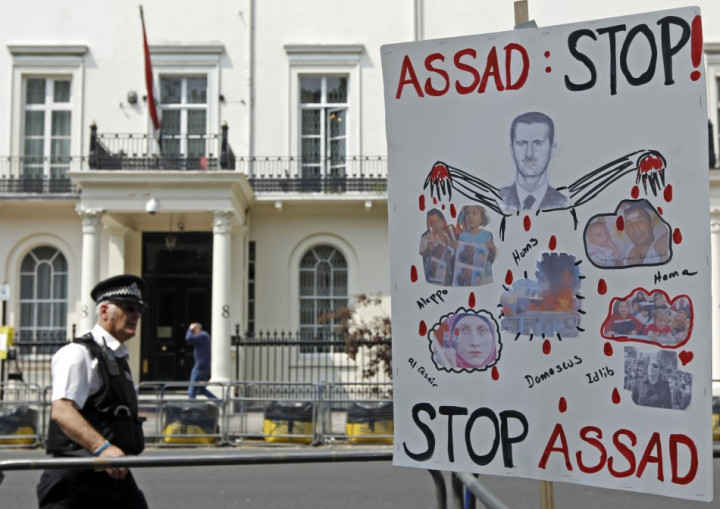 A Syrian high official has deserted his post in the Syrian embassy in London saying he is no longer willing to represent a "violent and oppressive" regime.
The Syrian charge d'affaires, Khaled al-Ayoubi, has told the Foreign Office in London that he is unable to continue in his position because of Assad's continuous breach of human rights.
Ayoubi was the most senior Syrian diplomat serving in London. The Foreign Office described his defection as "another blow to the Assad regime".
His defection was the latest major walkout from the Assad coterie over the 16-month uprising, which has seen close aides and once-loyal generals defect.
In a further blow to the regime, a Syrian brigadier general, who was deputy chief of police in Syria's Latakia region, fled to Turkey with 12 officers. Latakia is the de facto capital of the Alawite heartland on the Mediterranean coast.
One of the most prominent defectors, one-time personal friend of Assad, Manaf Tlass, put himself forward as the only leader who could unite Syria's fractured opposition.
Tlass fled to France in July. A member of Syria's Sunni Muslim majority, he said he had been unable to convince Assad to listen to members of his inner circle who counselled him against clamping down on the opposition.
"Sometimes in a friendship you advise a friend many times, and then you discover that you aren't having any impact, so you decide to distance yourself," he said.
Tlass commanded a brigade in the elite Republican Guard unit and his father served as defence minister under the president's father, Hafez.
He is now in Saudi Arabia for the Haj, the spiritual pilgrimage to Mecca. In an interview with Al-Sharq Al-Awsat daily, he said he did not see a future for Syria under Assad.
Another major defection was that of Syria's ambassador to Iraq, Newaf Fares.
He told Al-Jazeera that he was joining a growing number of officials who have deserted the regime for the opposition. He said his decision came because of his growing despair at the regime's crackdown.
"I urge all honest members of this party to follow my path because the regime has turned it [the party] to an instrument to kill people and their aspiration to freedom," he said.