Syria Civil War: Vice-President's Cousin becomes Latest High-Profile Defector
Yuaarab al-Sharaah jumps ship while atrocities rock region including government jet bombing homes in Azaz and killing 40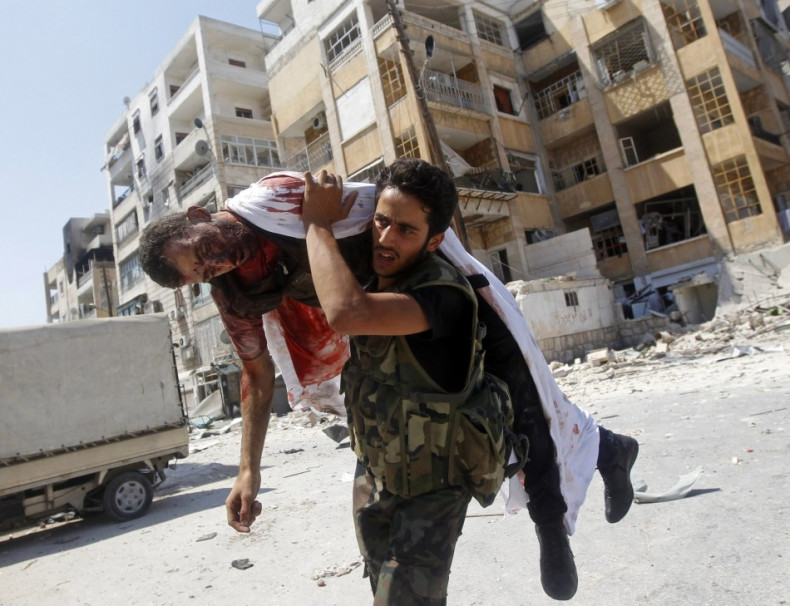 The cousin of Syria's vice-president has joined the rising flood of defectors in Syria and abandoned President Bashar al-Assad's regime.
The Saudi-owned Al Arabiya TV channel said that Gen Yuaarab al-Sharaah, a cousin of vice-president Farouq al-Sharaa, had joined the revolution.
Conflicting early reports had suggested that it was the vice-president himself who had defected and that he had been put under house arrest. The claims could not be verified.
Sharaa was one of the few high-profile members of the old guard to have kept a ministerial position after Bashar al-Assad took power.
The latest defection came amid reports of the bombing by a government air force jet of a residential area in the town of Azaz. More than 40 civilians were killed and 100 wounded, many of them women and children, Human Rights Watch said.
The rights watchdog interviewed witnesses, victims, medical personnel, and relatives of those killed.
"This horrific attack killed and wounded scores of civilians and destroyed a whole residential block," said Anna Neistat, acting emergencies director. "Yet again, Syrian government forces attacked with callous disregard for civilian life."
Azaz residents told HRW they saw a fighter jet drop at least two bombs, flattening dozens of homes.
Two opposition Free Syrian Army bases near the attack might have been targets, the watchdog said.
One was the headquarters of the Free Syrian Army brigade, in a former Baath party building while the other was a detention centre where the rebels hold government soldiers or of the pro-government Shabiha militia.
Assad's missing brother

In an interview with the Saudi paper al-Wattan, the Russian deputy foreign minister Mikhail Bogdanov said that President Bashar al-Assad's brother, Maher Assad, had been severely injured in the bomb blast at the National Security HQ in Damascus in which four close aides of the president were killed.
Maher, commander of Syria's 4<sup>th Division and of the Republican Guards and one of the country's most feared men, lost both legs in the explosion and wa fighting for his life, Bogdanov said.
Reuters said a Gulf source confirmed that Maher had been injured in the blast, but had lost one leg, not two. He has not been seen in public since the attack.
Meanwhile, the United Nations has called an end to its military observer mission (UNSMIS) in Syria before its mandate ends.
"The conditions to continue UNSMIS were not filled," France's UN ambassador, Gerard Araud, said after a Security Council meeting.
Russia had warned that pulling out of the country would have "serious negative consequences" for the whole region.
The UN mission had been part of a six-point peace drawn by joint UN-Arab league envoy Kofi Annan.