A suicide bombing in a mosque in downtown Damascus has killed 42 people, including a senior Muslim cleric, and injured 84 others, according to the Syrian health ministry.
The state news-agency SANA has hinted at a Free Syrian Army hand behind the blasts, but the charge has been rebutted by the rebel fighters.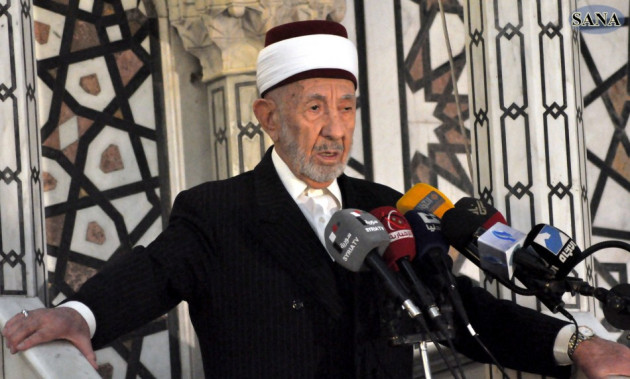 Sheikh Mohammad Said Ramadan al-Buti, 84, a staunch supporter and ally of Bashar al-Assad's regime, was in the midst of a religious lesson in the evening when the bomb exploded at the Iman mosque.
"We suddenly heard the explosion. We ran inside the mosque and we found the people torn into pieces," the BBC quoted a witness as saying.
State media said the blast was carried out by a suicide bomber, calling it a "terrorist" act, alluding to the Free Syrian Army, the rebel outfit fighting to oust Assad.
Refuting the allegation, rebel spokesperson Loay Maqdada said: "We in the Free Syrian Army do not take any responsibility for this operation. We do not do these types of suicide bombings and we do not target mosques."
State TV channel broadcast footage of the ravaged mosque and focussed on al-Buti's death for three hours.
al-Buti was a popular figure in Syria, and was one of the most recognised faces on Syrian TV as he appeared several hours every week with his evening sermons. He was a long-time imam at the eighth century Omayyad mosque in Syria.
(Courtesy: 06alamm, YouTube)
Despite being a Sunni by birth, al-Buti had pledged his allegiance to the Assad regime. He had even called on the Syrian people to fight against the Sunni-dominated Free Syrian Army, describing them as "scum" in one of his televised speeches.
He had also applauded the Assad regime for what he called its fight against the "mercenaries sent by America and the west".
The killing of al-Buti is seen as a big jolt for the embattled Syrian leader who is fighting the Sunni-majority Free Syrian Army.