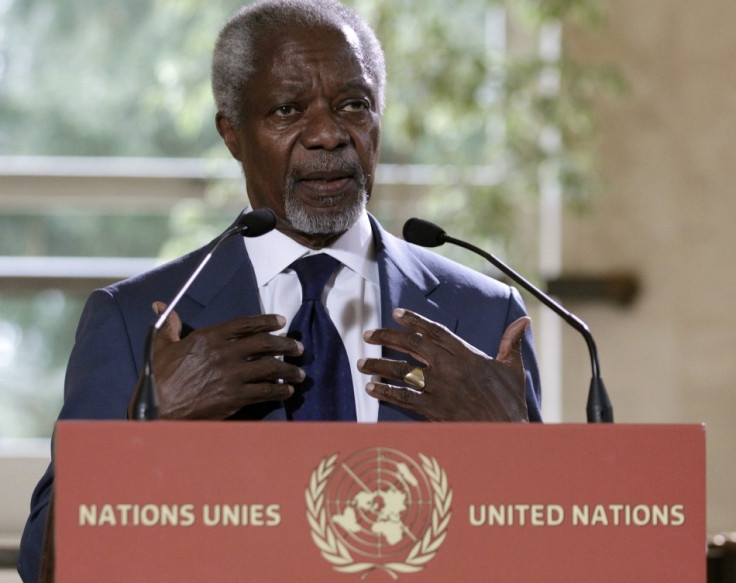 United Nations-Arab League envoy Kofi Annan has invited the five permanent members of the security council to a meeting on Syria in Geneva as the conflict intensifies.
Turkey, Iraq, Kuwait and Qatar were also invited, but Iran and Saudi Arabia - considered a leading Arab League nation - were excluded in a move that is likely to enrage the two countries that play a key role in the region.
The Action Group for Syria, as the meeting is being termed, will seek to identify the steps needed to resolve the crisis, including an immediate cessation in violence, Annan said.
Turkey, a member state of Nato, was invited to the meeting following a diplomatic crisis that erupted between Ankara and Damascus over the downing of an unarmed F-4 Phantom fighter jet by Syrian security forces.
Tensions between the two countries rose further after Turkish Prime Minister Recip Tayyip Erdogan pledged to help "liberate Syrians from dictatorship" without engaging in war-mongering.
The five permanent members of the UN security council are the United Kingdom, the United States, France, Russia and China.
The US, Britain and France questioned whether Iran should be invited to the meeting after talks stalled over Teheran's nuclear programme.
France said Annan's meeting should find a common position on a political solution to the crisis.
"The action group should agree on the principles of a democratic transition in Syria as well as the priority, which is to stop the repression and allow the free access of humanitarian aid to the civilian population," French foreign ministry spokesman Bernard Valero said in Paris.
US Secretary of State Hillary Clinton, who plans to discuss Russian arms sales to Syria, said she hopes that the meeting will be a "turning point" in the political crisis.