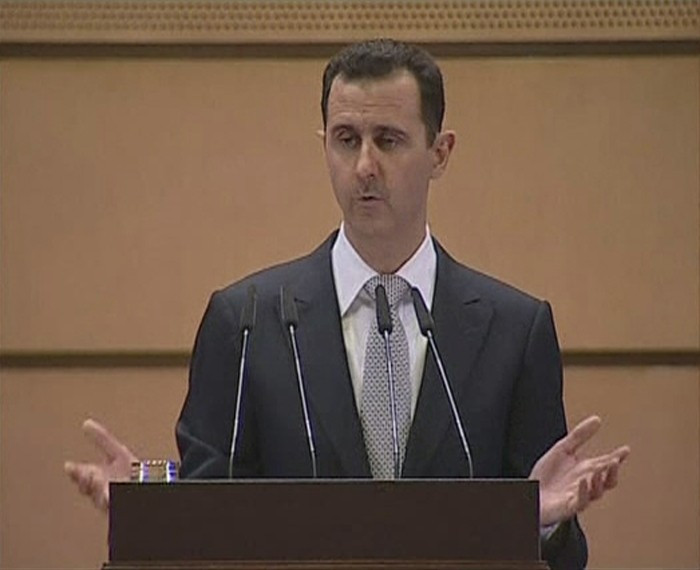 The Syrian President Bashar al-Assad blamed the outside forces for the current crisis in Syria in a parliament address in Damascus on Sunday.
In a rare address since the uprising, the president admitted that Syrian crisis is in a serious condition and insisted that the country should face the crisis rather running away from it. He also said Syria is facing a conspiracy of sedition, division and destruction of homeland.
"At this time, we are facing a war from abroad. Dealing with it is different from dealing with people from inside," Assad told the newly elected People's Assembly.
He also said the rebellion forces should contest the elections rather than boycotting the people. Assad added that attempts are being made to distort the image of the regime's armed forces.
"We have to fight terrorism for the nation to heal. Some of the opposition took part of the poll and they are with us here in this dome. Others are waiting for the directions from outside. I encourage those who are still hesitant to return to dialogue. I reassure that the state will not take revenge," said the president.
Assad is of the opinion that millions took to the streets and expressed their rejection to international intervention and took part in the recent parliament elections.
Speaking about the recent Houla massacre which killed around 108 people including 49 children, Assad mentioned even wild animals wont commit such an ugly crime and he distanced himself from the mass massacre.
The president addressed the parliament after the UN and Arab league envoy Kofi Annan pointed out that the Syrian regime should do more in solving the Syrian conflict.
The violence which started a year-ago, so far claimed over 13,000 lives in the Syrian soil.
On the other hand, experts from the region were of the opinion that Assad prefered to blame the international community for the current crisis in Syria instead of owning the responsibility. According to them, it also demonstrated the regime's rigidity.
The anti-regime critics pointed out that the speech in no means would provide a path towards peaceful solution.
"If anyone is waging a war on Syria, it is Assad's forces," Assad's critic Louay Safi of the Syrian National Coucil told Aljazeera.
However, the Syrian president largely kept silence on the tougher political and economic sanctions imposed by the international communities.