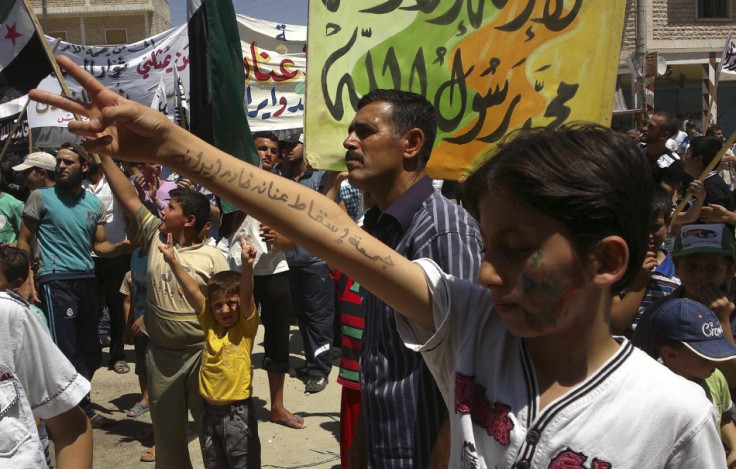 The massacre in Hama province of Syria has outraged world leaders, especially those of western nations who have condemned the attack in strongest terms.
Anti-regime activists said more than 220 people, a majority of them civilians, were murdered by President Bashar al-Assad's forces on Thursday.
"I was deeply saddened and outraged to learn of reports of yet another massacre committed by the Syrian regime that has claimed the lives of over 200 men, women, and children in the village of Tremseh," US Secretary of State Hillary Clinton said in a statement.
Clinton also suggested that the Syrian regime "deliberately murdered innocent civilians" which was vindicated by credible reports about the shelling.
Clinton once again said that Assad must be removed in order to save the Syrian people. But Syrian allies both China and Russia are opposed to the move.
Reports from UN observers in Syria also point to the bloody incidents. The monitors are trying to investigate the attacked villages to get a complete picture of the carnage.
Once the shelling was over, the militiamen reportedly began killing civilians "execution-style" with guns and knives, and burning down homes.
UN Chief Ban KI-Moon also expressed his outrage at the attack and severely condemned it. Ban said: "I call upon all member states to take collective and decisive action to immediately and fully stop the tragedy unfolding in Syria. Inaction becomes a licence for further massacres. Members of the Security Council must build on the action group communiqué and follow through on their promises to act accordingly."
Thursday's massacre is seen as the single bloodiest incident of violence so far in Syria in the 16-month uprising against Assad.
The incident has also been condemned by governments in the UK and France. UN and Arab League special envoy Kofi Annan said he was appalled.
The regime-backed state television reported the incident and blamed "armed terrorist groups" for the attack without mentioning the death toll.
Russian authorities toned down their condemnation and said Moscow would urge a probe into the massacre.
"This wrongdoing serves the interests of those powers that are not seeking peace but persistently seek to sow the seeds of inter- confessional and civilian conflict on Syrian soil," the Russian foreign ministry said, according to Reuters.